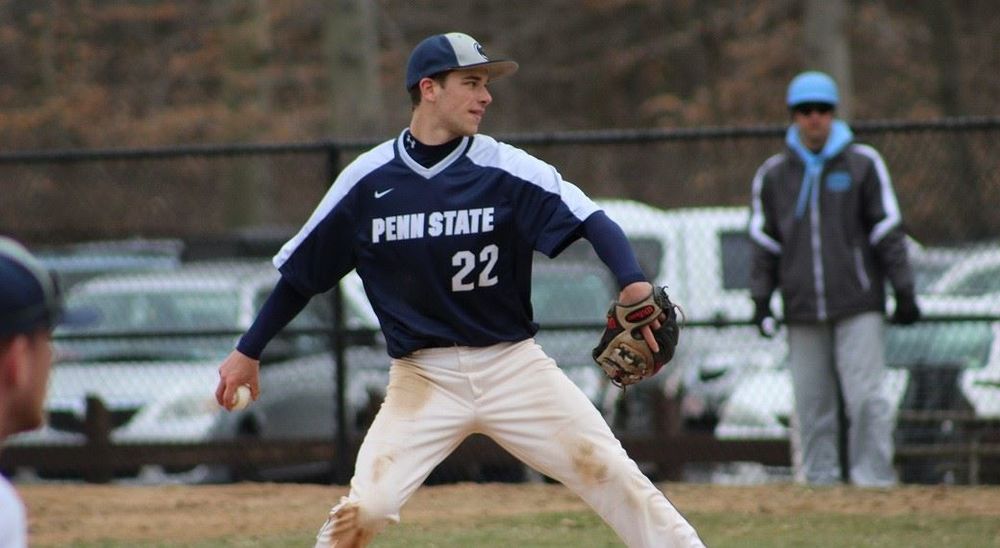 ABINGTON, Pa. — The North Eastern Athletic Conference selected Penn State Abington's Ryan McCarty as its baseball Pitcher of the Week after earning a win against Wells College on April 13. McCarty tossed six scoreless innings and allowed just three hits while striking out eight batters. In addition to his work on the mound, the sophomore hit a pair of doubles and drove in three runs.
Below are Penn State Abington athletics scores from April 11 to 22.
Baseball
Abington 13, Wells College 1
Abington 15, Wells College 7
Abington 4, Wells College 2
Salisbury University 9, Abington
Lacrosse (women)
Abington 16, Hilbert College 10
Medaille College 25, Abington 5
Wells College 21, Abington 7
Cazenovia College 23, Abington 13
Softball
SUNY Cobleskill 5, Abington 3
SUNY Cobleskill 3, Abington 2
Abington 2, SUNY Poly Utica 1
SUNY Poly Utica 4, Abington 0
Tennis (men)
Lancaster Bible College 5, Abington 4
Abington 7, Penn State Berks 2
Tennis (women)
Abington 5, Lancaster Bible College 4
Abington 8, Penn State Berks 1
About Penn State Abington
Penn State Abington provides an affordable, accessible and high-impact education resulting in the success of a diverse student body. It is committed to student success through innovative approaches to 21st century public higher education within a world-class research university. With nearly 4,000 students, Penn State Abington is a residential campus that offers baccalaureate degrees in 19 majors, undergraduate research, the Schreyer honors program, NCAA Division III athletics, and more.