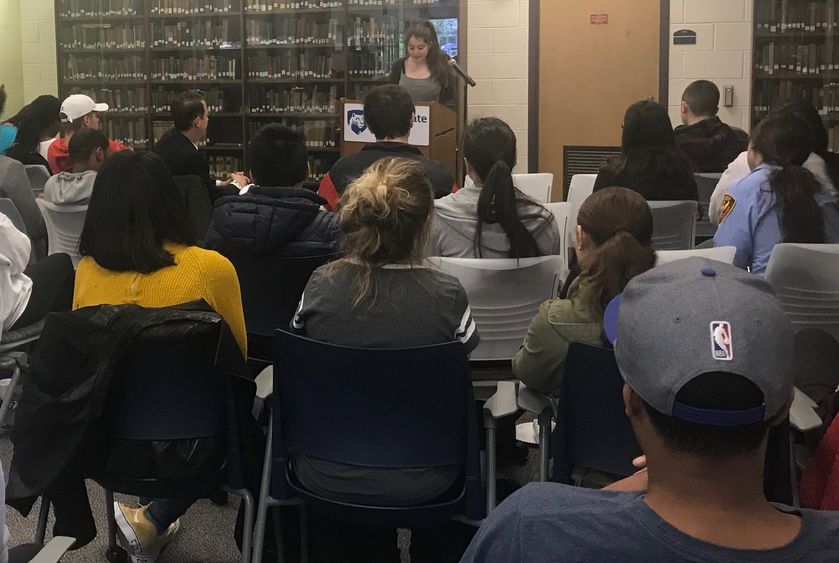 ABINGTON, Pa. — The Penn State Abington Library held its second annual student poetry reading recently to promote a greater understanding of and appreciation for poetry while highlighting societal issues.
"It attempts to raise awareness of contemporary social and political problems as seen through the poets' experiences," said Binh Le, the reference and instruction librarian who organized the event.
This year's program was titled "Multi-ethnicity, Immigration, and Identity" and was comprised of works crafted by American poets from various backgrounds, such as Ada Limon, Yusef Komunyakaa, and Quique Aviles.
Thomas Heise, assistant professor of English and American studies, said specific pieces were selected to showcase the diversity of contemporary American literature.
"I chose poems that gave voice to the searing, as well as celebratory, experiences of immigration, assimilation, cultural and linguistic difference, and the complex questions swirling around identity, family, belonging and generational struggle," he said.
Student Shannon Flanigan was among the readers.
"It was very powerful standing in front of a crowd to read words that meant something and held so much emotion," she said.
Another reader, student Tyler Peters, agreed.
"Reading as well as hearing these poems made me appreciate the complex issues that others, especially for the people coming from different cultures, deal with," Peters said.
"'Mexican' Is Not a Noun" by Francisco X. Alarcon; "My Tongue Is Divided into Two" by Quique Aviles; "Immigrant Picnic" by Gregory Djanikian; "Ramadan" by Kazim Ali; and "The African Burial Ground" by Yusef Komunyakaa were among the poems that were read.
About Penn State Abington
Penn State Abington provides an affordable, accessible, and high-impact education resulting in the success of a diverse student body. It is committed to student success through innovative approaches to 21st century public higher education within a world-class research university. With nearly 4,000 students, Penn State Abington is a residential campus that offers baccalaureate degrees in 19 majors, undergraduate research, the Schreyer honors program, NCAA Division III athletics, and more.