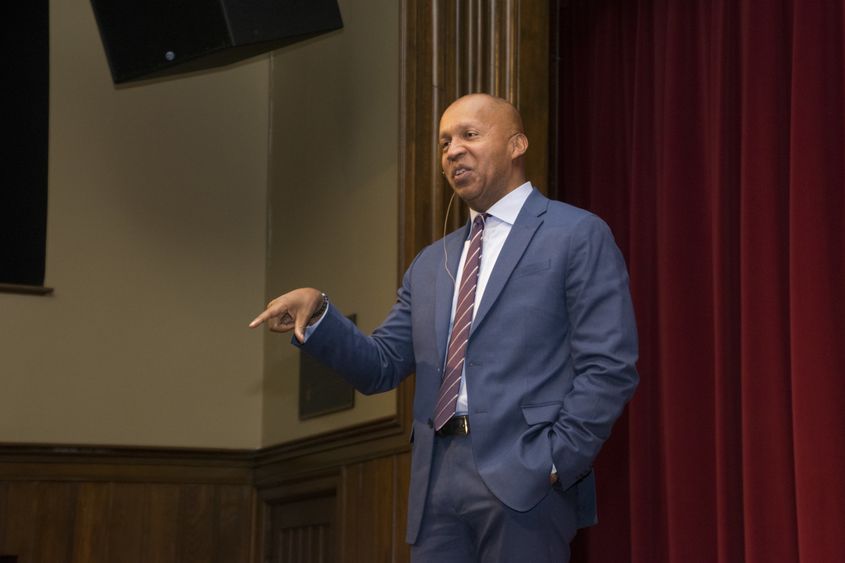 ABINGTON, Pa. — A powerful lecture by civil rights activist Bryan Stevenson moved some Penn State Abington students to tears and fired up others to initiate change in the world.
Stevenson, author of the Abington Common Read book "Just Mercy: A Story of Justice and Redemption," is an attorney and leading voice for criminal justice reform. In a packed Sutherland Auditorium, he shared compelling stories from his own life and his work with the disenfranchised and presented a call to action to the campus community.
Stevenson presented a snapshot of a broken criminal justice system in the United States and offered students solutions to change the world.
"This generation is critical to improving the situation," he said. "There is a lot of crisis and despair."
Stevenson offered four solutions to effect change: getting proximate, rewriting the narrative, staying hopeful, and a willingness to do things that are uncomfortable and inconvenient.
The first time Stevenson got proximate was while he was a Harvard Law School student working with a human rights organization that advocated for inmates on death row.
"The first condemned man I ever saw was in chains and shackles, and it took 10 minutes to unchain him," he said. "We wound up talking for hours."
"We need to get closer to people who are suffering and disfavored so we can understand their challenges and their pain. We can't create solutions from a distance," he continued. "Decide to get closer to people who are suffering, marginalized, disadvantaged, poor. Only in proximity to those who are suffering can we change the world."
Rewriting the narrative, the second ingredient to change, is another challenge he presented.
"Don't get comfortable with injustice, which fear and anger breed. We need to commit to truth and reconciliation and acknowledge the history to change the future and free us all," Stevenson, the first in his family to go to college, said. "We need to change the narratives underneath all of the issues, including immigration and climate policy."
Underneath the debates are narratives, he explained.
"We have mass incarceration because the war on drugs criminalized people with drug problems," Stevenson said. "We are governed by fear and anger."
"We are all burdened by our history of racial inequality. This smog created by our history. They used the narrative of racial difference to legitimate centuries of slavery. I don't think slavery ended, it just evolved. People were beaten, lynched and terrorized. Today, we are still living at a time that these narratives are still out there."
"Hope is your superpower. Don't let anybody or anything make you hopeless. Hope is the enemy of injustice."

— Bryan Stevenson, attorney and civil rights activist
The third aspect of change is hope, which is key to the ability to make change. Injustice prevails where hopelessness persists, he said.
"Hope is your superpower. Don't let anybody or anything make you hopeless. Hope is the enemy of injustice," Stevenson said. "Hope is what will get you to stand up when people tell you to sit down."
The final ingredient on the road to change, Stevenson told the campus community, is to be willing to do things that are uncomfortable and inconvenient.
"Make a choice to be uncomfortable and position yourself in a difficult place," he said, before relating the story of how he had to tell a man with intellectual disabilities that he couldn't stop his execution. 
Stevenson closed with a plea to students to take these four steps and together become agents of change.
"Don't ever think that your grades are a measure of your capacity to change the world. Don't think your income is a measure of your capacity to change the world. When you stand there is a lawyer in Montgomery, Alabama, that will stand with you," said Stevenson, referring to himself.
Members of the campus community who attended the lecture left heartened by Stevenson's remarks.
"I like to think that everyone in the audience who listened, who heard the testimony of his life, was changed in some way, great or small," said Martha Kemper, associate professor of theater.
Bryan Stevenson is the founder and director of the Equal Justice Initiative in Montgomery, Alabama. Under his leadership, it has won major legal challenges eliminating excessive and unfair sentencing, exonerating innocent death row prisoners, confronting abuse of the incarcerated and the mentally ill, and aiding children prosecuted as adults.
The Common Read is a single book chosen for an academic community to read and discuss, providing intellectual linkages between disciplines and between different groups on campus. At Abington, Common Read experiences throughout the academic year are offered to the entire campus.
About Penn State Abington
Penn State Abington provides an affordable, accessible, and high-impact education resulting in the success of a diverse student body. It is committed to student success through innovative approaches to 21st century public higher education within a world-class research university. With nearly 4,000 students, Penn State Abington is a residential campus that offers baccalaureate degrees in 19 majors, undergraduate research, the Schreyer honors program, NCAA Division III athletics, and more.