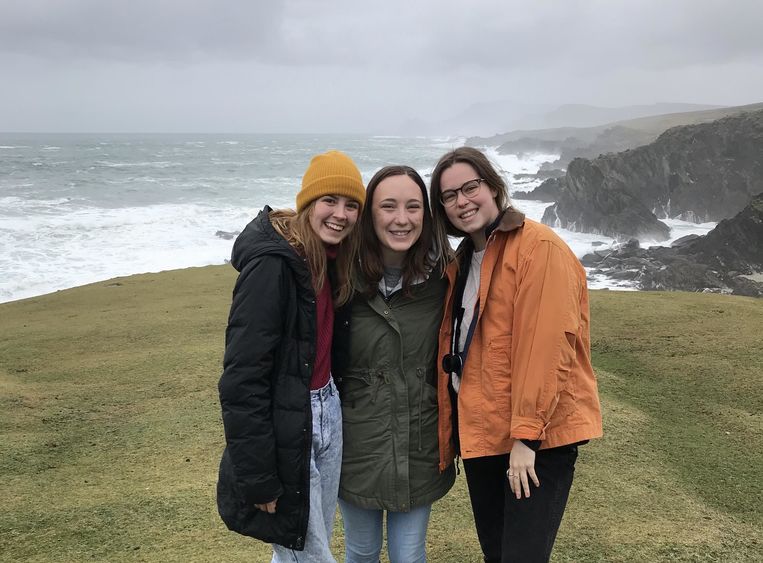 Ten Penn State Abington students and two faculty decamped to Ireland over spring break as part of a semester-long study of the creation of art in response to the context of a place. 
Art faculty Bonnie Levinthal and H. John Thompson led students in their weeklong exploration that included a residency where the students lived and worked at the distinguished Ballinglen Arts Foundation in Ballycastle, County Mayo.
"We had access to the studio 24 hours a day so we could work as late as we wanted. We would sit at the dinner table together and then go back to the studio," sophomore Emma Mason said. "Bonnie and John were great about supporting us with our work."
To inform their art, Mason said they went sightseeing in and around Ballycastle, "a tiny little town" surrounded by breathtaking scenery.
"Each person created their pieces based on where we were in Ireland," Mason said. "We created art that represented the place, and then we explored how our work differed from those around us, but they were still connected with each other. It was really neat to be able to see."
"We used our art pieces, the etchings, to inspire each other. It really resonated with me. I was able to focus more on how it related to the place around me more than on the grade I would get for it. ... "
"It was all about how the place made me feel. There were sheep everywhere, the atmosphere was so calm. People seemed nicer and happier, not high stress like at home. It was much more relaxing. Even the rain smelled good."
Mason said 10 was the "perfect number" of students to be enrolled in the course.
"It allowed us to share these intense life experiences together. I knew some students prior to going, but shared experiences helped us get closer. And we got to explore together," she said. "We were all just so happy to be there." 
Mason urges students to consider enrolling in a course with an international travel component. 
"The professors who run these courses are definitely worth getting to know. They are really good resources, and it is the best way to experience a really cool place in the world. I left Ireland feeling enriched and fulfilled," Mason, who received a scholarship to support the international component of the course, said. 
The group's other stop was Dublin, the capital city of Ireland which is dotted with art museums, galleries, and artists' lofts. 
"The galleries and museums centered on the arts of both place and the history behind them," Mason said. "Our days were very full with enriching content."
"I really loved the colors of Ireland, the lush greens and earthy tones. Being in Abington, you're in suburbia and it's not the same. Ireland has such a deep and long history, and we got to be a part of the history." 
_________________________________________________________________________
ART 199/299/499: Representing Place: Exploring the Visual Arts in Ireland was one of three Abington faculty-led courses with an international travel component that took students abroad over spring break 2019. Malta was the destination for students enrolled in Management 451W: Business Ethics & Society: A Global Perspective. And Spanish I, II, & III: Spanish Language, Literature & Culture students spent the week in Salamanca, Spain. Find out more about Global Programs at Abington, here.
About Penn State Abington
Penn State Abington provides an affordable, accessible, and high-impact education resulting in the success of a diverse student body. It is committed to student success through innovative approaches to 21st century public higher education within a world-class research university. With nearly 4,000 students, Penn State Abington is a residential campus that offers baccalaureate degrees in 19 majors, undergraduate research, the Schreyer honors program, NCAA Division III athletics, and more.