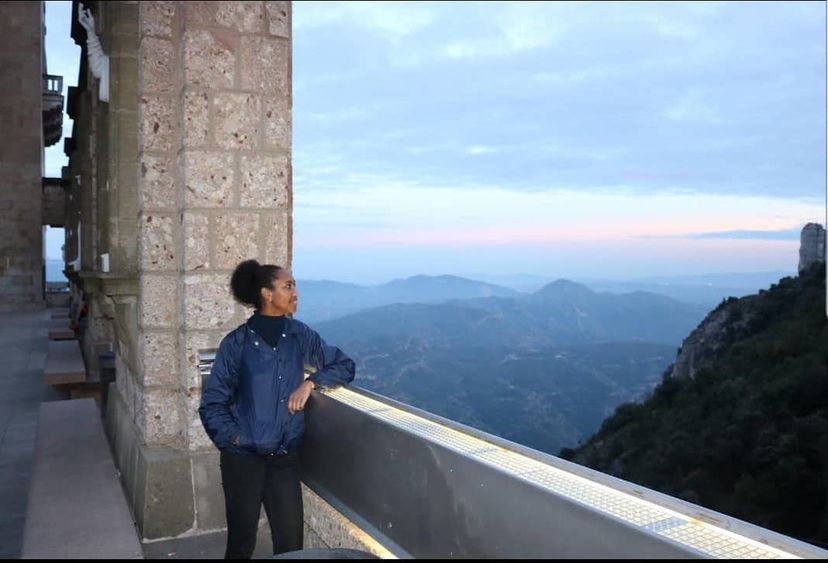 ABINGTON, Pa. — Charlena Frank seems to have done it all at Penn State Abington. Among her many accomplishments outside the classroom, she was selected to travel to South Dakota for Alternative Spring Break, and she served as president of the Student Government Association. But there was one more experience she wanted before graduation: to study abroad.
Thanks in part to a scholarship funded by the Penn State Bookstore, operated by Barnes & Noble, the senior was able to finance her dream of studying in Spain. She also received a grant from the University's Student Engagement Network. The $2,000 in grants supported her living expenses while she took courses in Barcelona during the fall 2018 semester. 
While in Barcelona, Frank enrolled in courses with a global foundation including international marketing, business ethics, and leading across cultures.
"The courses were tough and demanded a lot of reading, but I also learned a lot absorbing the culture and practicing the language. I lived in a homestay, and my host mom only spoke Spanish," the corporate communication major said.
"I learned a lot of self-love being there and being able to leave Abington. Nothing was familiar. It was new and foreign, and I was able to sit back and learn. I purposely 'lost' myself in Spain so I could find myself," said Frank.
"Study abroad is a really great way to connect with people and network."

— Charlena Frank, senior, Penn State Abington
As international experiences become increasingly significant in today's job market, study abroad can be considered an investment in one's future.
"I think study abroad is a really great way to connect with people and network. You take time to immerse yourself as a person and become more open minded. As you do more, see more, and travel more, it opens you up to possibilities," Frank said. "It's refreshing that there is life outside what you see as familiar." 
Now that she's back at Abington, people are noting the "new" Charlena.
"Charlena left for Spain ready and open for anything that came her way. She returned matured and noticeably self-assured," Michele Scott, campus nurse, said.
Charlena wrote about her experience in Spain here.
The grant Frank received from the Bookstore was a portion of the $20,000 Abington received to help provide students who otherwise might not have the opportunity to study abroad, with access to these transformative international experiences. First-generation college students, first-generation Americans, and students of color are all underrepresented in study abroad, according to Dolores Rafter-Arevalo, director of Global Programs and International Student and Scholar Services at Abington.
At Penn State's most diverse campus, providing financial support for global learning opportunities is key to ensuring that these high-impact programs are accessible to low-income, first-generation students. For many students, cost is the primary deterrent to studying abroad, particularly when one considers the additional expenses incurred beyond tuition, such as passports, student visas and roundtrip airfare.
Rafter-Arevalo said there are many benefits to study abroad, including:
Increased retention and graduation rates
Improved personal and academic development
Development of intercultural competency
Increased likelihood to attend graduate school and pursue a globally focused career
Rafter-Arevalo said there are a lot of myths surrounding study abroad.
"Students often say 'I just don't have the money or the time to go abroad.' Our students often work and attend school and support their families, too," she said. "This grant from the Penn State Bookstore is all about supporting the students who think studying abroad is not a possibility for them during their college career. What I would like them to understand is that study abroad, interning abroad, and global engagement activities are actually an investment in themselves and an investment in their futures."
About Penn State Abington
Penn State Abington provides an affordable, accessible, and high-impact education resulting in the success of a diverse student body. It is committed to student success through innovative approaches to 21st-century public higher education within a world-class research university. With nearly 4,000 students, Penn State Abington is a residential campus that offers baccalaureate degrees in 19 majors, undergraduate research, the Schreyer honors program, NCAA Division III athletics, and more.