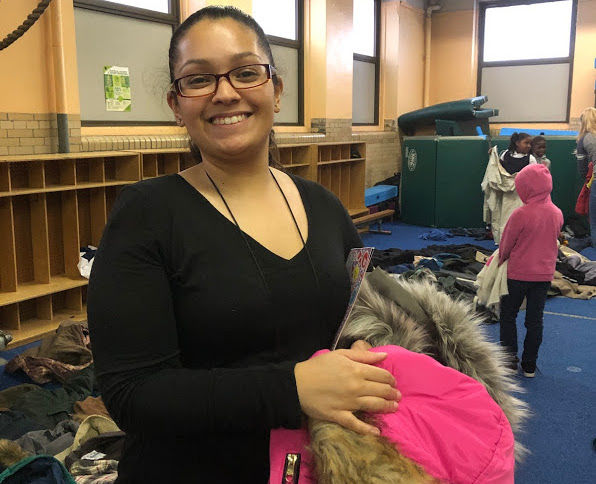 ABINGTON, Pa. — The concept of service learning was instilled in Ashley Cardona as a Penn State Abington student, and now she brings it to life every day as a first- grade teacher at McClure Elementary School in North Philadelphia. Her major, Elementary and Early Childhood Education, stressed developing teachers who are able to see the whole child and any barriers to learning that may exist outside of school, such as food or clothing insecurity.
Cardona has connections to McClure Elementary that date back to her childhood: She grew up near the school, visited it as a Penn State Abington student, and completed her student teaching there. Following graduation, she joined the teaching staff. Penn State Abington recently caught up with Cardona to learn how her career has progressed since her 2017 graduation.
Penn State Abington: How does your education at Penn State Abington inform your teaching today?
Ashley Cardona: When I went into the Abington Education program, they made sure that we were out in the field by our sophomore year. We were observing teaching in action, and we got to work hands on with children. Our field work during our junior year was in urban schools. The professors reminded us that urban schools are where we are the most needed, and they best prepare us to teach.
Before we graduated, we already had almost an entire semester of being the lead teacher in a classroom as student teachers. This was helpful because it shows you if teaching is truly your passion. Abington makes sure that their teachers are well equipped and want to be there.
Penn State Abington: Did you have a mentor at Abington?
Cardona: Ann Martinelli (Assistant Teaching Professor and Education program chair) always believed in me. I took a year break from the teaching program and did some general requirements. During that time, I considered changing my major. But I remembered that Ann told me that I was meant to be teacher, and she didn't want me to slip through the cracks. Her encouragement helped me to become the teacher I am today.
"Teaching is a hard job. ... The demands are endless, but if you are passionate, you are meant to be a teacher." Ashley Cardona '17
Penn State Abington: What are your long-term career plans?
Cardona: I do not see myself staying in the classroom forever. I do have dreams of opening up my own school for early education, pre-k to first grade. Those years are the most important because it sets a foundation for reading, math, science, social skills, and much more. I want to work more closely with these young children and help make a change in urban areas. This is a big dream, some might think it's a long shot, but anything is possible.
Penn State Abington: What drives you to teach?
Cardona: Teaching is a hard job. You have to be passionate about it. You bring your work home with you in every way: grading, planning, contacting parents, thinking about a child you're concerned about, upset because you don't feel cut out, worried that you're not good enough to educate our youth. The demands are endless, but if you are passionate, you are meant to be a teacher.
We get a year's worth of work done in 10 months. Summer is spent planning and going to professional development to become a better teacher. It's a hard job, but it is the most rewarding. When you are a teacher you touch lives. My students hug me because they love me. They trust me to not only teach them, but also to care about them and keep them safe. They are the reason why I am a teacher.
About Penn State Abington
Penn State Abington provides an affordable, accessible, and high-impact education resulting in the success of a diverse student body. It is committed to student success through innovative approaches to 21st century public higher education within a world-class research university. With nearly 4,000 students, Penn State Abington is a residential campus that offers baccalaureate degrees in 19 majors, undergraduate research, the Schreyer honors program, NCAA Division III athletics, and more.