Students from all fields of study encouraged to apply by Jan. 21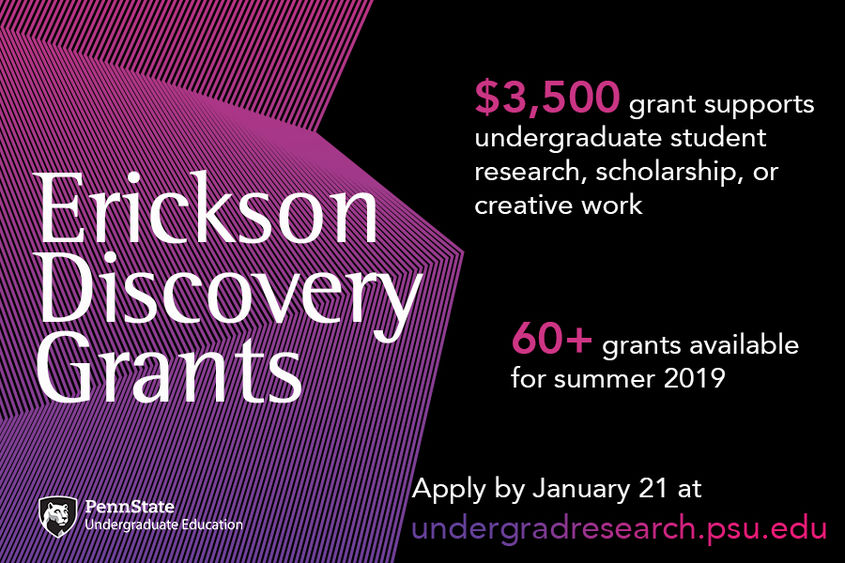 UNIVERSITY PARK, Pa. — Research opportunities for undergraduate students can provide an invaluable experience, and help them to take what they learn far beyond the classroom. However, sometimes funding those opportunities and experiences is too costly for undergraduate students who are already footing the cost of college.
The Erickson Discovery Grants application is still open for students looking to secure a grant for opportunities this summer. Last year, 72 grants were awarded at $3,500 each to fund summer 2018 experiences. The deadline to apply is Monday, Jan. 21. The application can be found here.
Mukul C. Talaty, assistant professor of engineering at Penn State Abington, said research for undergraduates offers a chance to go beyond the textbook and work on problems with answers that can't simply be looked up. The skills gained resonate far down the line, he said.
"We are looking to develop something, test something, understand something — and we cannot simply look it up," Talaty said about research. "We have to figure it out. That kind of learning is invaluable to helping develop a student's mind to solve real-world problems. Starting to develop this ability empowers a student to 'figure out how to figure things out.' That's a great skill and confidence to have. It will not only help you in your job, but I'd suspect help you to be a better student as well."
Students involved in arts and the humanities also are encouraged to apply. For more information, visit the Undergraduate Research website.
Applications are open to all Penn State undergraduate students from all fields of study. Students must be enrolled full time for at least one semester immediately following the summer work. They must also have a Penn State faculty supervisor available during the summer to consult with. Eligible projects include laboratory and field research; scholarly inquiry; and creative work in music, art, theater and other fields. Study abroad, travel unrelated to research, and projects not grounded in an academic discipline are not eligible for Discovery Grant funding. The grants may be used to cover living expenses and project costs.
Undergraduate Research is part of Penn State Undergraduate Education, the academic administrative unit that provides leadership and coordination for University-wide programs and initiatives in support of undergraduate teaching and learning at Penn State. Learn more about Undergraduate Education at undergrad.psu.edu. Sign up for the Undergraduate Education Headlines for the latest news.