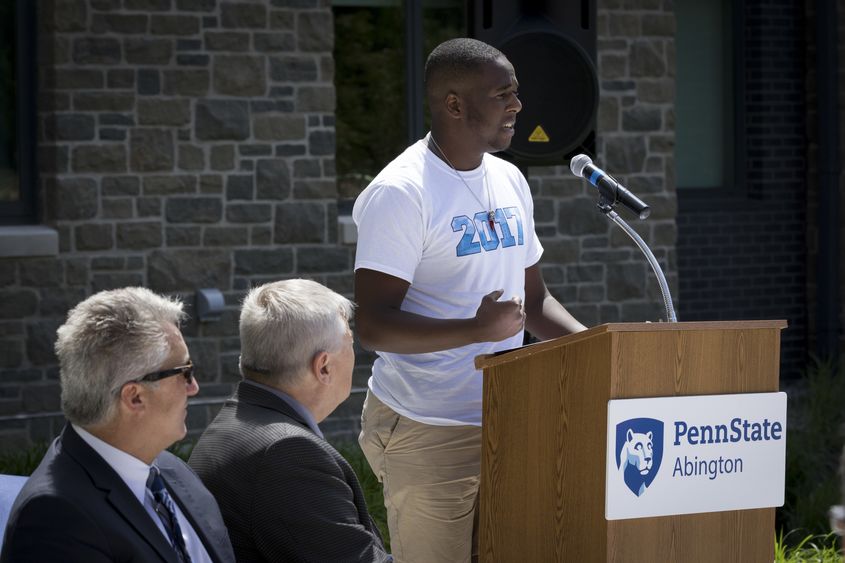 ABINGTON, Pa. — Nicholas Worrell spent his first three years at Penn State Abington in fifth gear, shuttling between home, classes, and two jobs. It was a grind, but he had goals, and campus involvement didn't fit into his tight schedule.
But four semesters before graduation, Worrell found an opportunity he couldn't ignore. He trained for and was selected to be one of the first resident assistants (RAs) at the Lions Gate, the first student apartments at the Abington campus.
Worrell, who will graduate this month, said the role was challenging and rewarding.
"I learned to problem-solve and help students develop. I had time to sit and talk to them about their struggles and aspirations. It was a lot different than I expected," he said. "The position evolved. Yes, we had to keep people in line, but it was more helping with growth and building community. Enforcing rules was a sub-part of it."
"We built relationships together and created special bonds," added Worrell, who also is the secretary of the Black Student Union. "Being an RA changed me, and these have been the best semesters of my college career."
Prior to becoming an RA, Worrell built his Abington family around a work-study position in the Office of Admissions, where he gives tours and helps students with financial aid questions.
Working in the office for four years has been a blessing, he said.
"I faced some obstacles here but found support at Abington. Everyone in admissions and financial aid has been a family and an inspiration to me. They supported me when my mother passed away," the Philadelphia resident said. "They are there for you when you need them. They are a massive family for me."
"I faced some obstacles here but found support at Abington."

— Nicholas Worrell, graduating senior
Worrell is now looking ahead, past the financial and other challenges he overcame to earn his bachelor's degree in science.
"My end goal is to go to school to become a physician assistant and then go into pediatrics and family care," he said, crediting his siblings with inspiring him to work with children.
But it was the death of one of his younger siblings that led him to want to work with whole families.
"Maybe I can help save that child or help the parents deal with the illness since I've been through this myself," he said.
Asked if he has advice for Abington students, Worrell didn't hesitate:
"Don't sacrifice grades for money because there are people on campus who might be able to help you find financial aid or scholarships like they helped me."
"Getting involved is the most important thing you can do in any type of college setting. If you go to school, study, and go home, you are going to think college isn't worth it. Enhance your experience at Abington. There are ways to make time for involvement."
"Try to build relationships with Abington faculty and staff because they have connections. They can often help you if you need it, and they are always willing."
About Penn State Abington
Penn State Abington provides an affordable, accessible, and high-impact education resulting in the success of a diverse student body. It is committed to student success through innovative approaches to 21st century public higher education within a world-class research university. With nearly 4,000 students, Penn State Abington is a residential campus that offers baccalaureate degrees in 19 majors, undergraduate research, the Schreyer honors program, NCAA Division III athletics, and more.