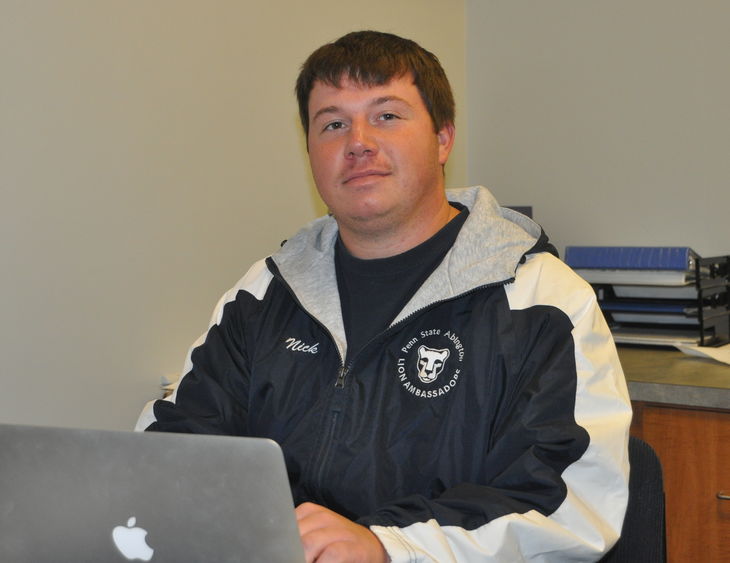 Nick DeRosa found himself at a crossroads. He wasn't satisfied with his college experience, so he started looking at other colleges in the region including Penn State Abington. He made an appointment to consult with Ashley Anthony, associate director of transfer admissions at Abington.
"She was so willing to go the extra mile and talk about what would work for me that I went home and submitted my application," Nick said. "Ashley is the one who made my decision for me — she is the reason I transferred to Abington."
Today, Nick is one semester from graduating with a degree in psychological and social sciences, the first step toward his goal of attending medical school. He cited his adviser, Associate Professor of Psychology Meghan Gillen, and several faculty members as key influencers and praises their willingness to work with students.
"I went to meet with my biology professor right after a test because I was concerned that I didn't do well," Nick said. "He told me that he would grade it and then figure out if there are options. All of my professors will sit down with you and help you toward your goals."
"All of my professors will sit down with you and help you toward your goals."

-- Nick DeRosa, senior at Penn State Abington
Part of Nick's satisfaction with his new college experience has to do with finding the right "fit." At Abington, he found a diverse campus with many and varied opportunities to get involved.
Nick became an active member of the campus community. As a Lion Ambassador, he gives tours to prospective students, their families, and VIP visitors. He applied to be an Orientation Leader, working with new students. He also joined the premed and psychology clubs, too.
Like many Abington students, he works in addition to carrying a full-time course load. In Nick's case he works in the emergency room at St. Mary Medical Center and with an ambulance company, both in Bucks County.
"I basically work two full-time jobs and sleep about four hours per night," he said proudly of earning the money to pay for his own education.
As he winds down his career at Abington, Nick offered advice to students who are considering transferring:
Assess why your current college isn't a good fit for you by making a list of pros and cons. Do the same for each school you are considering transferring to as well.
Don't be concerned if you don't know anyone at your new college. Lots of people start fresh and rebuild. Get involved even if your time is limited.
Ask to shadow a student at the potential new college. "Shadowing gives you a great perspective," Nick said.
Most importantly, meet with an adviser. "Review your goals with someone. This is what Ashley Anthony did for me at Abington," Nick said.
How to transfer to Penn State Abington
Go to the Transfer home page of the Penn State Abington website, which includes steps to apply, admissions requirements, evaluating transfer credits, and transfer agreements with community colleges.
Contacts:
Ashley Anthony, associate director of transfer admissions, 215-881-7349
Jennifer Bona, transfer admissions counselor, 215-881-7345
About Penn State Abington
Penn State Abington provides an affordable, accessible, and high-impact education resulting in the success of a diverse student body. It is committed to student success through innovative approaches to 21st century public higher education within a world-class research university. With nearly 4,000 students, Penn State Abington is a residential campus that offers baccalaureate degrees in 19 majors, undergraduate research, the Schreyer honors program, NCAA Division III athletics, and more.