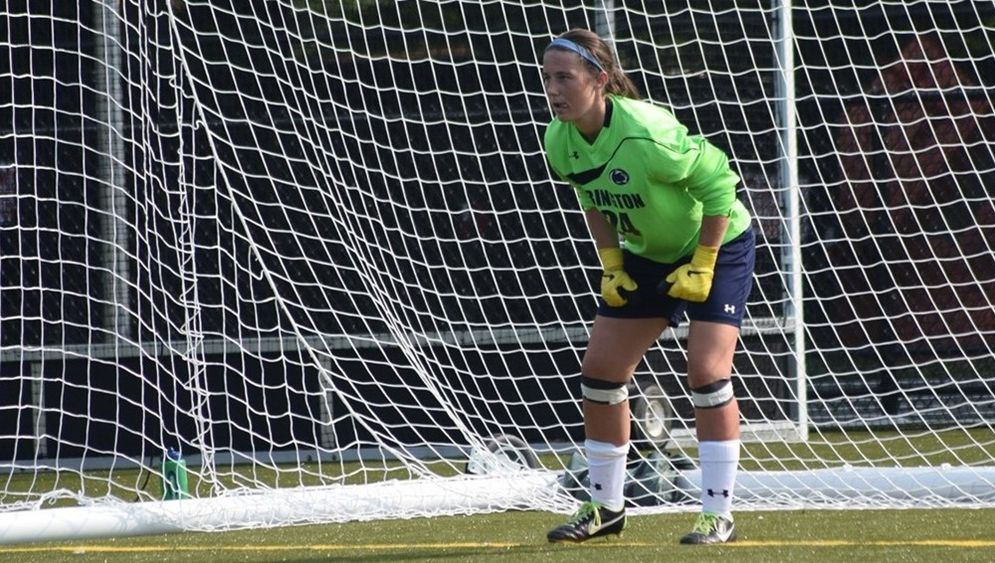 The North Eastern Athletic Conference (NEAC) recently interviewed Penn State Abington senior Samantha Friend about the student-athlete experience at NCAA Division III Abington.
Friend, a psychological and social sciences major, is the goalkeeper for the soccer team and a utility player on the softball team.
Penn State Abington (PSA): Why did you choose Abington?
Friend: I chose to attend Abington because it's close to home, and I was given the opportunity to play soccer and softball here. Also, the small campus was appealing to me.
PSA: What does being a student athlete mean to you?
Friend: Being a member of the Abington women's soccer and softball teams means dedication toward those sports. What I like about playing NCAA Division III sports is being surrounded by teammates playing for the love of the game. Playing at Abington means playing for the person to the left and the right of you and working hard every day for your teammates.
PSA: What has been your favorite moment as a student-athlete?
Friend: My favorite moment was making it to the NEAC soccer championship my freshman year. While it was disappointing that we didn't win this game, it was a great learning experience for me as a freshman and showed me that with hard work, this was a game we could get to and compete in each year.
PSA: What activities are you involved in at Abington?
Friend: I am a member of the Student-Athlete Advisory Committee and Psi Chi, the psychology honors program.
PSA: What are three words that best describe being a Division III student-athlete?
Friend: Sportsmanship, dedication, heart.
PSA: What is your pregame routine?
Friend: Before games I listen to music, and I always wear a pair of socks under my softball and soccer socks each game.
PSA: What do you plan to do after your earn your degree from Abington?
Friend: I plan to attend graduate school to obtain my master's degree in child and adolescent counseling. I hope to become a psychologist and work with children and young adults.
Penn State Abington provides an affordable, accessible, and high-impact education resulting in the success of a diverse student body. It is committed to student success through innovative approaches to 21st century public higher education within a world-class research university. With nearly 4,000 students, Penn State Abington is a residential campus that offers baccalaureate degrees in 19 majors, undergraduate research, the Schreyer honors program, NCAA Division III athletics, and more.