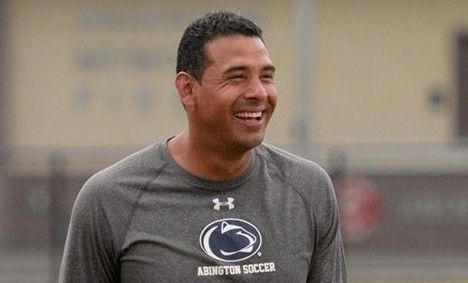 ABINGTON, Pa. — Penn State Abington men's soccer Head Coach David Castellanos and student-athlete Andrew Costa recently shared the benefits of participating in NCAA Division III (DIII) athletics.
Castellanos has been coaching at Abington since 2005, compiling a 118-85-20 record. His team is coming off a banner year that included the program's first North East Athletic Conference (NEAC) men's soccer championship and an appearance in the DIII men's soccer tournament. Castellanos was voted by his peers as the NEAC men's soccer coach of the year for the second straight season.
Penn State Abington (PSA): What inspired you to coach at Penn State Abington?
Castellanos: The opportunity to coach Division III at Abington opened up, and I knew it would be a perfect fit. It gave me the opportunity to work with young student-athletes and enhance their soccer skills while they received a fantastic education.
PSA: How do you help your Division III student-athletes balance all aspects of college life?
Castellanos: Here at Abington we have created a fantastic culture that not only competes on the playing field but also in the classroom as well. We equip our student-athletes with the tools to handle all the pressures of school, sport and life. We believe in creating great relationships, as this is the foundation to everything we do. The beauty of Division III athletics is that it allows student-athletes to have a full and complete college experience. We encourage our student-athletes to wear different hats, interact with students outside of the sports world, and join student organizations. The higher the engagement, the greater the experience.
"Our student-athletes are passionate people. They are engaged in our local community and love the balance of competitive sports and a great Penn State education."

— David Castellanos, head coach, men's soccer, Penn State Abington
Andrew Costa
Senior defender Costa was recognized as the 2017 NEAC Defensive Player of the Year as the leader of the league's top defense. He is a three-time all-conference selection, earning first team honors in each of the last two seasons. Over his four-year career, Costa appeared in 67 games with six goals and six assists.
PSA: Describe the impact Coach Castellanos had on your decision to attend Abington.
Costa: Coach Castellanos had a huge impact on my decision. I had the pleasure of knowing him throughout my high school and club career, which made my decision a lot easier. Also, knowing his resume and his accomplishments as both a coach and a player helped finalize my decision. He motivated me to want to become a better soccer player. As a student-athlete, he improved my game and significantly developed my knowledge of the game.
PSA: Do you have a favorite memory or moment with your coach?
Costa: The most memorable one has to be lifting the NEAC trophy. It was an unforgettable end to my soccer career at Abington. All the hard work and time we put in as a team to be able to win the NEAC is a memory I will always cherish.
"Coach Castellanos will do whatever it takes to get you ready, not only in soccer but also in life itself."

— Andrew Costa 
PSA: What advice would you give to future student-athletes who may be considering playing at Abington?
Costa: You should work hard and dedicate yourself to becoming a great soccer player. By putting in the work at practice and always being focused, you can have the opportunity to be part of an amazing organization. If you are interested in furthering your soccer career after high school, then Abington is the best place to be. Coach Castellanos will do whatever it takes to get you ready, not only in soccer but also in life itself. He always wants the best for you and will make sure you succeed.
About Penn State Abington
Penn State Abington offers baccalaureate degrees in 19 majors at its suburban location just north of Philadelphia. Nearly half of its 4,000 students complete all four years at Abington, with opportunities in undergraduate research, the Schreyer honors program, NCAA Division III athletics, and more. Students can start the first two years of more than 160 Penn State majors at Abington and complete their degrees at University Park or another campus. Lions Gate, the first residence hall, opened in 2017.