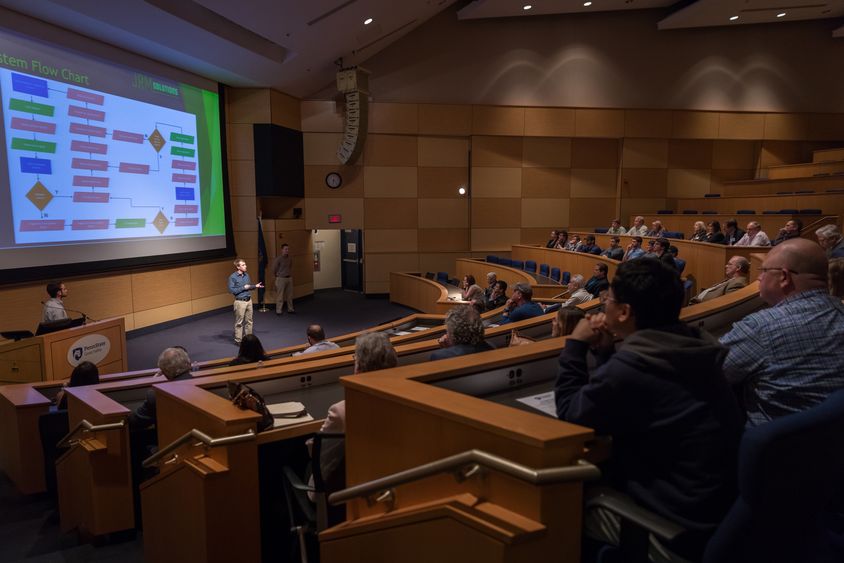 Senior engineering students from Penn State Brandywine and Penn State Abington presented their senior capstone projects at the campuses' annual Design Expo on Tuesday, April 24. The event was held at Penn State Great Valley.
All of the students involved are enrolled in Brandywine and Abington's four-year engineering program. The first two years of the program focus on foundational engineering coursework, which can be completed at Brandywine or Abington. The next two years of advanced engineering coursework are completed at the new engineering facilities at Penn State Great Valley, where students study engineering design with an emphasis on robotics applications.
Douglas Schumer, assistant professor of engineering design at Penn State Great Valley, introduced the two teams: JRM Solutions and Nearsighted Solutions. Each team then took the stage at the Conference Center at Penn State Great Valley to present their projects to attendees.
JRM Solutions' project was called "Automated Inspection System for the C3 Latch Automated Assembly Machine." The team's goal was to design and build an automated inspection system to replicate the human inspection that is currently used to test the C3 latch that is manufactured by Southco, Inc. The C3 latch is used in vehicles, electronic and industrial enclosures, and more.
Nearsighted Solutions' project was called "Designing a Remote Access Telescope Interface." Their goal was to build a telescope using the campus' 3-D printer and laser-cutting equipment and design an interface program that would allow users to fully operate the telescope via the internet.
After presenting their projects to the audience, the two teams did a demonstration for a panel of judges comprised of engineering industry professionals. At the event's conclusion, the general audience, engineering professionals and engineering faculty voted for their favorite project.
The People's Choice award, judged by the general audience, was presented to JRM Solutions. The Best Project award, judged by the panel of engineering professionals, was also given to JRM Solutions. The Best Engineering Design award, judged by the engineering faculty, was presented to Nearsighted Solutions.