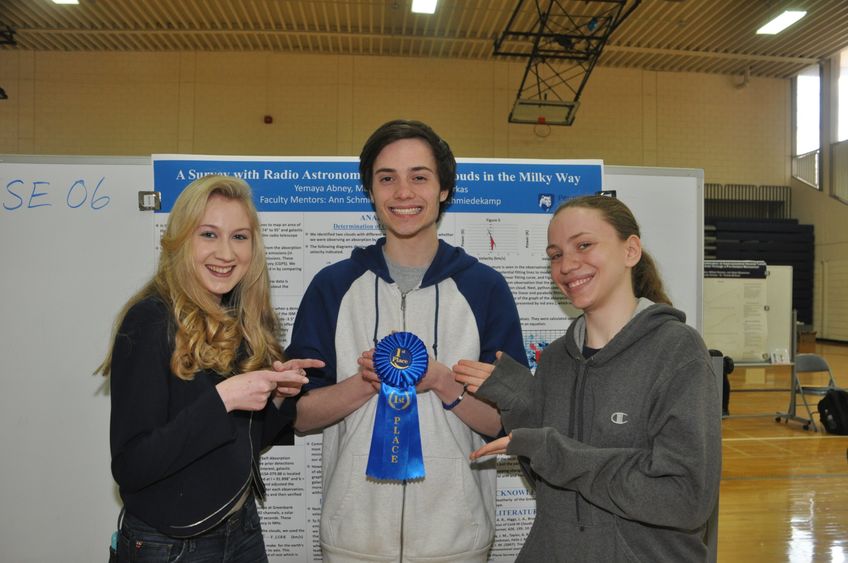 ABINGTON, Pa. — Their pitches had to be pretty close to perfect. The student researchers were competing for blue ribbons and needed to convey the essence of their projects to judges at the Abington College Undergraduate Research Activities (ACURA) Poster Fair. They had about two minutes.
First-year Penn State Abington student Alyson Farkas was on point. She summarized the radio astronomy project she developed with two others, and easily answered questions. It was a powerful pitch, and Farkas' team earned a blue ribbon.
Farkas, an engineering major, said there were multiple benefits to the undergraduate research project beyond polishing her presentation skills.
"Working on undergraduate research opened up opportunities for me since I developed a relationship with faculty who mentored us," she said.
Undergraduate research at Abington also allows for collaborations across disciplines. Students in the Criminal Justice, Sociology and Political Science leaned on Information Sciences and Technology (IST) majors to bring a project focused on the opioid overdose epidemic to fruition.
Senior Megan Wolfinger, the criminal justice major on the project, spent hours collecting data at the Montgomery County Coroner's Office, which was then loaded into a custom database for further analysis. 
"The database helped us establish patterns and see the big picture," Wolfinger said.
Wolfinger will enroll in the Montgomery County Police Academy this summer and said ACURA was "a huge talking point" during her interviews.
"My contribution to this project makes me a diverse individual who is able to communicate efficiently with other members of my team," she said.
Another potential option? Publishing. First-year student Dana Shaffer, who is majoring in business, is working with an american studies faculty mentor to extend her research, "From Rags to Riches: What America Meant for J.K. Rowling," and have it published in a scholarly journal. 
Undergraduate researchers pitched 38 projects this year to judges representing the three academic divisions at Abington: arts and humanities; science and engineering; and social science. 
Students can participate in undergraduate research beginning their first year at Abington. ACURA students:
collaborate closely with faculty mentors on hands-on research projects and/or creative works;
receive academic credit;
gain valuable research, technical and artistic experience to bolster graduate school applications, resumes and interview talking points;
present research findings at the ACURA Poster Fair, and potentially at a research lecture during the Fall Colloquium, and/or at local or national conferences; and
may publish original works and discoveries in partnership with the faculty mentor.
The following students took top place:
Division of Arts & Humanities
— "What's in a Recipe?" by Rachael Shulman, Rachael Ngandwe, Amber Rader, Eric Seamans. Faculty Adviser: Marissa Nicosia
Division of Science & Engineering
— "Effect of 1,3-thiazolidin-4-ones on Cancer Cell Proliferation in Vitro," by A'laa Alkurdi and Taylor Houston." Faculty Advisers: Eric Ingersoll and Kevin Cannon
— "Design and Fabrication of CubeSat Prototype and High Altitude Testing via Weather Balloon," by Kevin Burns, Spencer Yeingst, Harry Sykes, and Andrew Fnu. Faculty Advisers: Masataka Okutsu and Sabahattin Gokhan Ozden
— "A Survey with Radio Astronomy of Cold H1 Clouds in the Milky Way," by Yemaya Abney, Matt Brownell, and Alyson Farkas. Faculty Advisers: Ann Schmiedekamp and Carl Schmiedekamp
Division of Social Science
— "Hungry? Eat Garbage!"  by Catherine Chungag and Zelnnetta Clark. Faculty Adviser: Kathleen Fadigan
— "Examining Perceived Exclusion's Role in Evaluating Single-Group Protestors Utilizing Virtual Reality," by Robert J.Nutt. Faculty Adviser: Michael J. Bernstein
For the last several years, the makers on campus have joined the undergraduate research poster fair through Maker Mayhem, an exhibition of technology products and creative works developed by Abington students. Several IST students programmed a video game, "Casting Shadows," that made its debut.
About Penn State Abington
Penn State Abington offers baccalaureate degrees in 19 majors at its suburban location just north of Philadelphia. Nearly half of its 4,000 students complete all four years at Abington, with opportunities in undergraduate research, the Schreyer honors program, NCAA Division III athletics and more. Students can start the first two years of more than 160 Penn State majors at Abington and complete their degrees at University Park or another campus.