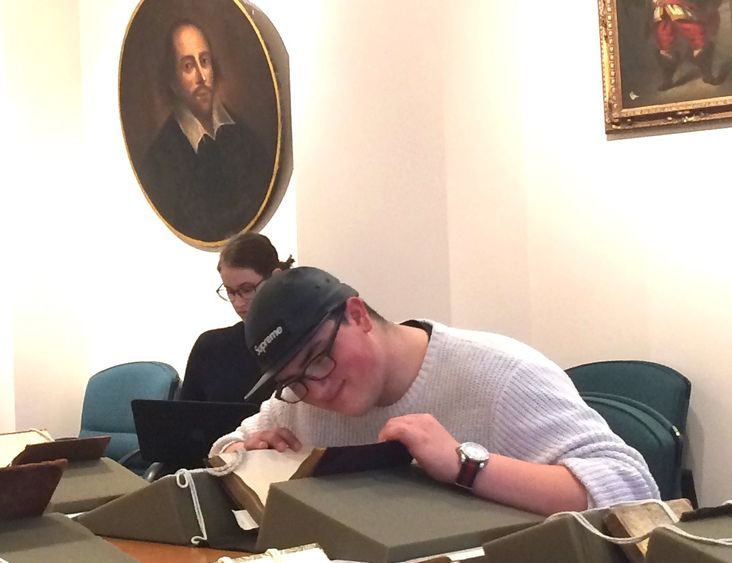 ABINGTON, Pa. — Four Penn State Abington students examined rare materials and discussed their research with renowned scholars recently at one of the world's pre-eminent libraries in Washington, D.C.
Faculty mentor Marissa Nicosia, assistant professor of Renaissance literature, accompanied the students to the Folger Shakespeare Library, which houses the world's largest collection of the works of Shakespeare and is the premier place to research the culture of Shakespeare's England.
Nicosia's previous and ongoing collaboration with curators and scholars at the library afforded students this unique opportunity. The Folger Shakespeare Library welcomes visits from student groups, and library staff were especially interested in the Abington student projects.
Senior Rachael Shulman said visiting the library allowed her to further immerse herself in her ACURA (Abington College Undergraduate Research Activities) project.
"I was surrounded by scholars," the English major said. "They gave me some very helpful direction and advice."
In Shakespearean-era English households, families collected culinary and medicinal knowledge in recipe books. Taking a Folger manuscript written by a Mrs. Corlyon in the 1600s as a starting point, the four students contributed to its transcription through a digital interface.
They then developed individual research projects for ACURA based on the theme "What's in a Recipe? Reading Early Modern Recipe Books," exploring questions about ecology, food, medicine and women's history.
One student, for example, is writing about gloves, which were custom made and worn on a daily basis in the 1600s. Each pair was perfumed with personalized medicinal formulas and cosmetic scents. Two other students are preparing and testing some of Mrs. Corlyon's recipes that also were used for medicinal and cosmetic purposes. 
At the Folger, Nicosia arranged for the students to examine printed books and nine recipe manuscripts, including Mrs. Corlyon's. Four experts answered questions about the physical aspects of the pieces, including the contents, how they were acquired, the pricing and the binding.
Junior Amber Rader, an English major, said the experience gave her a new perspective on her research.
"To be able to see, hold and even smell various books was an amazing experience," she said. "It allowed me to re-analyze how people used these recipe books in an everyday life."
"We were able to sit and discuss various ideas that we had about approaching the project with scholars, and they gave us great insight."

— Amber Rader, English major 
Rader and the rest of the Abington group was invited to a coveted daily ritual at the Folger — tea with the scholars.
"We were able to sit and discuss various ideas that we had about approaching the project with scholars, and they gave us great insight," Rader said. "It was a memorable experience that allowed deep conversation about the project."
Nicosia said the encounters helped the students develop a more profound understanding of their projects.
"Students knew the manuscripts were made by a real person, but they were a little disconnected seeing them on the screen," she said. "Seeing in person the book someone used 400 years ago was a really powerful moment for them."