Technology and writable walls are just a few of the new upgrades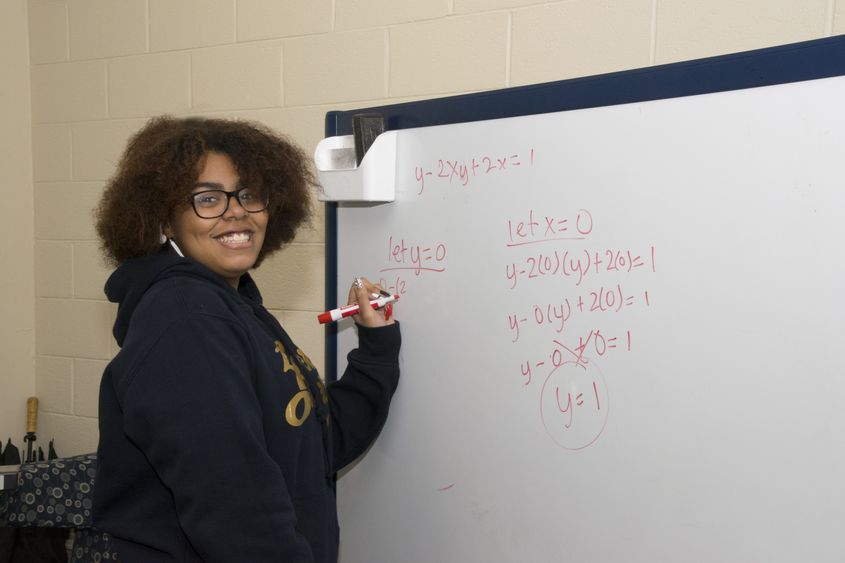 ABINGTON, Pa. — Writing on walls and tables is frowned on in most public spaces, but the staff of the renovated Penn State Abington library views scribbles as signs of success.
The library opened for the spring semester with new collaborative spaces, or glass bowls as one student referred to them, equipped with writable walls for puzzling through complicated equations or plotting out presentations with classmates.
Dolores Fidishun, head librarian, said the collaborative spaces are already heavily used.
"Students particularly like them and the ability to extensively use whiteboards and other white surfaces to share their work," she said.
Designed around the Knowledge Commons model, the re-imagined library provides students and faculty with the opportunity to work individually or in groups close to resources such as reference, research and writing support; technology assistance; and media resources.
"The design is smart. It gives everyone their own spaces whether you need to work by yourself or with other people," a student said.
Among the highlights of the renovation to the nearly 15,000-square-foot library:
Increased number of collaborative spaces with writable surfaces.
Comfortable furniture sprinkled throughout the library with whiteboard-covered tables to enhance teamwork, even in informal seating areas.
Technology that allows students to interactively share a computer.
Students who need to work alone benefit from new study pods built to accommodate technology and privacy.
Upgraded One Button Studio. The One Button Studio allows users to record high-quality video presentations with no experience in video production.
Moveable furniture to enhance user ability to adapt the space to their study needs.
In keeping with the premise of the Knowledge Commons to meet student and faculty needs, the library partnered with other campus units to bring some new services to the Library:
The Technology Support Center moved into the Library's main level and can provide students, faculty and staff with a variety of services.
Math and writing tutoring.
Media Commons so students can create and edit audio and video.
"Our 21st-century library is a village; a place of engagement; and a place for students, faculty and staff to do research and enhance their lives and learning," Fidishun said.
About Penn State Abington
Penn State Abington offers baccalaureate degrees in 19 majors at its suburban location just north of Philadelphia. Nearly half of its 4,000 students complete all four years at Abington, with opportunities in undergraduate research, the Schreyer honors program, NCAA Division III athletics, and more. Students can start the first two years of more than 160 Penn State majors at Abington and complete their degrees at University Park or another campus.