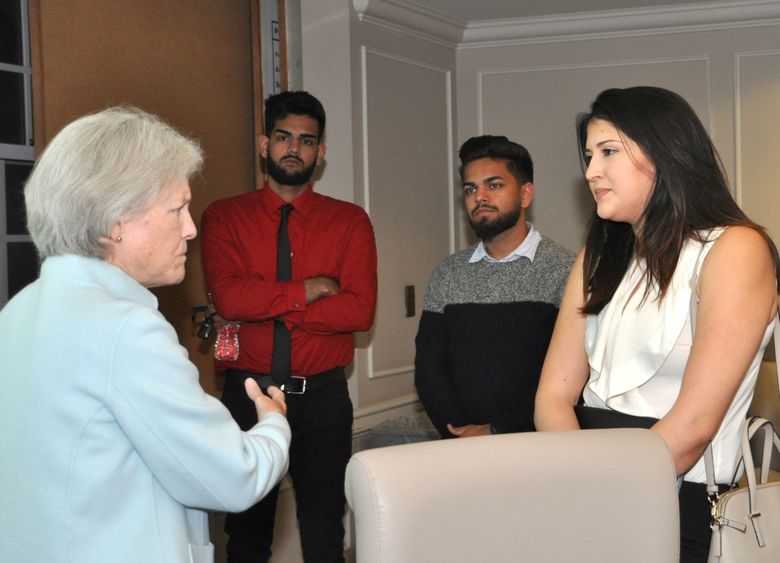 ABINGTON, Pa. — One of the most powerful women in health-care in the Philadelphia region hosted 11 Penn State Abington students to network and discuss strategic planning and public policy.
The meeting with Meg McGoldrick, president of Abington Jefferson Health, was organized by Abington faculty Charlene Underwood, who attended along with lecturer in business Thomas Stone. The strong relationships Abington faculty build with influential professionals open doors to networking, internships and job opportunities for students.
The students who attended represented several majors including business, information sciences and technology, and biology, but all plan to pursue careers in the health-care field.
McGoldrick was accompanied by government affairs specialist, Matthew Swaback of Jefferson Health, which merged with Abington Hospital two years ago. Swaback offered insight into health-care policy and advocacy and the forces shaping it.
Shane White, a senior business major in the health services option, wants to pursue a career in development or finance.
"I found the information about how they persuade different officials and work only in the best interest of the patients and the industry to be helpful," said White.
Rebecca Studer, an adult student with employee benefits experience, is also a senior business major but with a minor in finance.
"I was impressed by Meg's insight into the strategy behind the recent mergers and acquisitions and the long-term planning involved," said Studer. "It was interesting to learn how they are scaling, diversifying, and increasing their leverage in so many ways to meet the needs of the community."
Penn State Abington, formerly the Ogontz campus, offers baccalaureate degrees in 19 majors at its suburban location just north of Philadelphia. Nearly half of our 4,000 students complete all four years at Abington, with opportunities in undergraduate research, the Schreyer honors program, NCAA Division III athletics, and more. Students can start the first two years of more than 160 Penn State majors at Abington and complete their degrees at University Park or another campus. Lions Gate, our first residence hall, opened in August 2017.