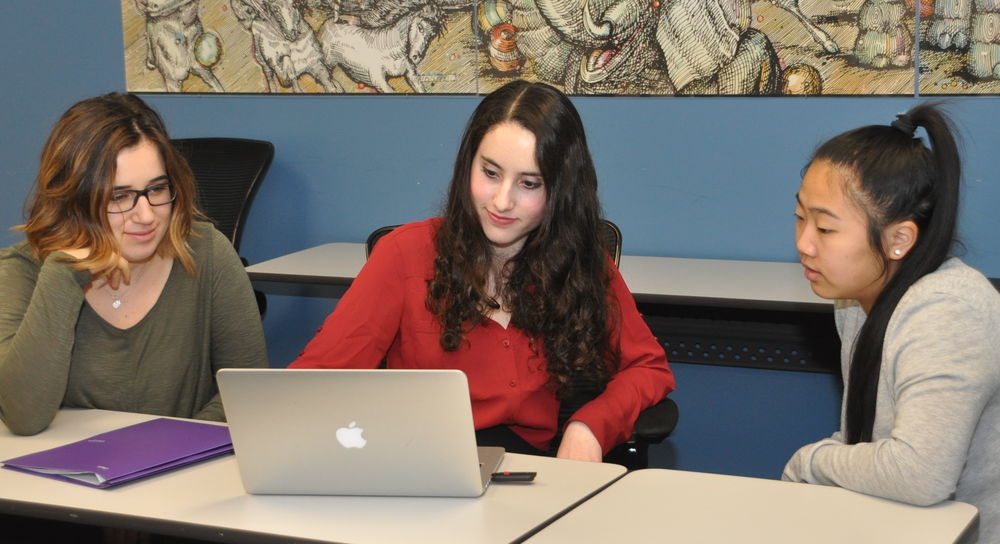 ABINGTON, Pa. — Penn State Abington staged its annual "Shark Tank"-style business competition last week. Instead of celebrity judges, the sharks were two expert business advisers. The bait was provided by three teams, comprised of 15 Abington students minoring in Entrepreneurship and Innovation, as well as eight students from Hof University of Applied Sciences in Germany.
The organizers based the 2017 competition on new product ideas the Abington students developed in an entrepreneurial leadership course, ENGR310/MGMT397. The goal was to conceive and present a plan to launch the businesses simultaneously in the United States and Germany.
Judges offered feedback after each presentation. Larry Frank, a 1970 alumnus and vice president of small business administration lending at WSFS Bank, was joined by Malcolm McGraw, president of management consulting firm MEM & Associates, on the judging panel. 
The competition was fast paced, just three days from start to finish. The Germans were barely wheels down in Philadelphia when they were teamed up with Abington students. They had to research and develop a business plan ,including marketing and financials, all while surmounting cultural and communication hurdles within their teams.
They hunkered down at the Penn State Center in downtown Philadelphia to complete their proposals and massage them into cogent presentations. Three faculty served as coaches/mentors/sounding boards: Dan Goldberg, lecturer in business; Gary Calore, coordinator for intercollegiate and interdisciplinary programs; and Maximilian Walter, professor of economics at Hof.
And then it was go time. The three teams revealed their products along with logos, compensation packages, SWOT (strengths, weaknesses, opportunities, threats) analyses, financial projections, and distribution plans. The German students added the European market perspective.
"The competition is an opportunity to apply our knowledge and discuss why we made certain decisions."

— Penn State Abington student
Judge Frank commented to one group, "My concern is how do you fill demand? And what will bring someone back?"
The judges also offered pointers on how to make presentations more effective. For example, one team used the general terms high and low.
"Be careful with use of comparative language," Frank warned. "When you say high and low, what does that mean? Put it in context." 
In the end, the bait that hooked the sharks was a personalized children's book product. The sharks didn't offer hundreds of thousand of dollars to invest in the young company, but the learning experience was invaluable to these budding entrepreneurs.
What makes Penn State Abington business competitions unique?
The organizers flip the typical business competition format in favor of a design that provides an international component by inviting the students from Hof University of Applied Sciences in Germany while replicating a real business environment:
Faculty coaches intermingle German and American students on each team so they encounter varied experiences, cultures and languages. 
The students perform original research instead of working from a case study.
Penn State Abington, formerly the Ogontz campus, offers baccalaureate degrees in 19 majors at its suburban location just north of Philadelphia. Nearly half of our 4,000 students complete all four years at Abington, with opportunities in undergraduate research, the Schreyer honors program, NCAA Division III athletics, and more. Students can start the first two years of more than 160 Penn State majors at Abington and complete their degrees at University Park or another campus. Lions Gate, our first residence hall, opened in August 2017.