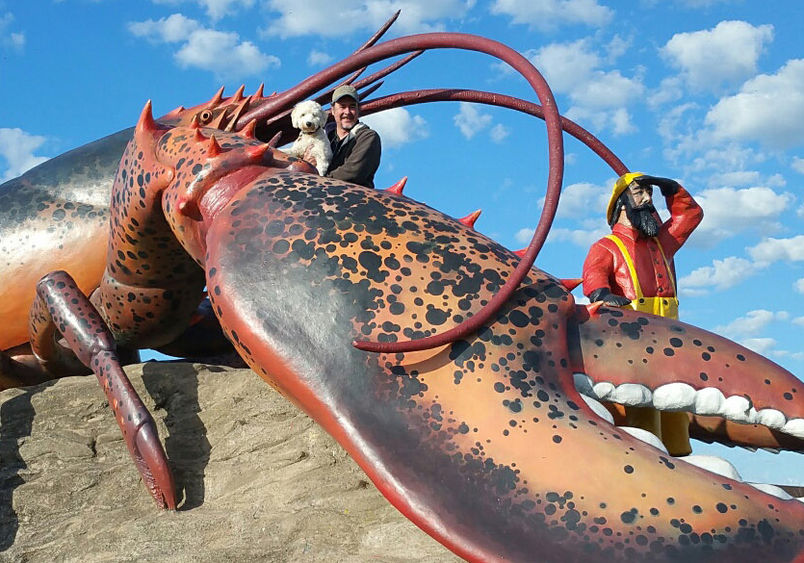 P.J. Capelotti lived up to his reputation as Penn State Abington's resident explorer this summer, continuing his field research into the archaeology of American exploration and popular culture.
The professor of anthropology drove nearly 4,000 miles in the United States and Canada to document fast-disappearing historical advertising billboards and other roadside archaeology sites across North America. This research will form the basis for another book and perhaps even a gallery exhibit.
During his travels, Capelotti also:
surveyed the wreck of the shark-fishing boat, Orca, from the movie "Jaws" on Martha's Vineyard; the results will be included in a new collection of essays on archaeology;
delivered a a paper on the heritage of American place names in the Arctic at the International Arctic Social Science meetings in Sweden; 
 continued to work with a team of researchers toward the publication of the Chermside journals from Leigh Smith's 1873 expedition to Spitsbergen;
and presented an invited lecture on the 1898-99 Wellman Polar Expedition at the Scott Polar Research Institute at Cambridge University, England. 
Not one to be confined to land or sea, Capelotti is featured as one of the founders of the field, space archaeology, in the current issue of StarDate at the University of Texas at Austin McDonald Observatory. "Recognizing the 'signatures' of extraterrestrial life would be difficult, but archaeologists would be well-suited to do this, because they work with diversity all the time," Capelotti told the magazine.
Listen to Capelotti and a colleague discuss space archaeology in the podcast, This Orbital Life. Follow him on Twitter @PJCapelotti.
Penn State Abington, formerly the Ogontz campus, offers baccalaureate degrees in 19 majors at its suburban location just north of Philadelphia. Nearly half of its 4,000 students complete all four years at Abington, with opportunities in undergraduate research, the Schreyer honors program, NCAA Division III athletics, and more. Students can start the first two years of more than 160 Penn State majors at Abington and complete their degrees at University Park or another campus. Lions Gate, the first residence hall on campus, opened in August 2017.