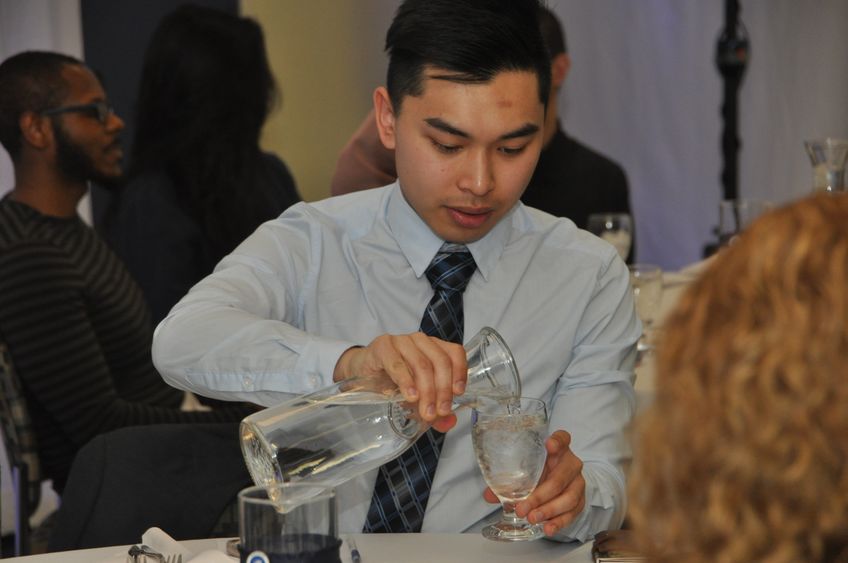 Welcome to Bistro Nittany. Please silence your phone and place it out of sight. You may take your seat and the first course will be served shortly.
+++++++++++++++++++++++++++++++++++++++++++++++++++ 
The Lares Student Union Building was transformed. Fabric panels adorned the walls and soft music played. The circular tables, clad in white, were precisely set with china, crystal, and silverware.
And by the close of the evening's etiquette dinner, the Penn State Abington students were transformed, too, just as Tina Vance-Knight had hoped.
Vance-Knight, who manages Abington Center for Career and Professional Development, served up the event to teach etiquette and appropriate social behavior for business and personal occasions.
Vance-Knight brought in events and etiquette consultant Mary Harris of Mary Harris Events to help students develop the soft skills, including conversation starters, and phone, email and texting etiquette.
"Etiquette is the art of knowing how to behave in a given situation and knowing how to be sensitive to the people around you," Harris told the group, stressing that the concepts shouldn't be reserved just for business occasions. 
Tips for good etiquette at a business meal
Don't ….
have sidebar conversations.
leave the table to greet someone at another table.
take out cell phones or touch up makeup.
put elbows on the table.
pile the dishes in front of you or push the plate away.
put your bag or briefcases on the table.
complain or make a scene if the food is unsatisfactory.
place silverware on the tablecloth after using them. Place them on your plate.
use your bread to absorb sauce or soup or blow on them to cool them off.
And, if all else fails, remember mom's foolproof advice: "Please and thank you are the magic words."
Penn State Abington, formerly the Ogontz campus, offers baccalaureate degrees in 18 majors at its suburban location just north of Philadelphia. Nearly half of our 4,000 students complete all four years at Abington, with opportunities in undergraduate research, the Schreyer honors program, NCAA Division III athletics, and more. Students can start the first two years of more than 160 Penn State majors at Abington and complete their degrees at University Park or another campus. Lions Gate, our first residence hall, will open in August.