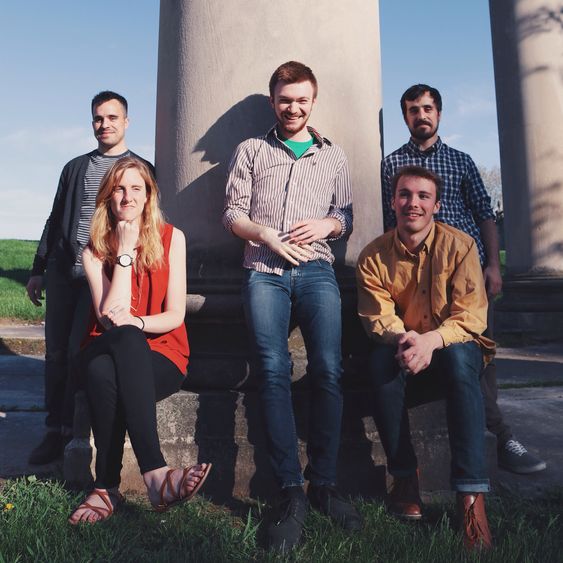 ABINGTON, Pa. — With a sound blending the rich harmonies and lyrics of the Simon & Garfunkel era with a modern sensibility, the local five-piece folk-pop band Sunday Muse will entertain at the Penn State Abington outdoor amphitheater on Thursday, May 18.
Band spokesperson Hudson Marsh, an integrative arts major at Abington, said that Sunday Muse straddles the line among various musical genres.
"Our influences include show tunes, jazz, classical, folk, and pop. We even do some bluegrass. Our melodies are strong and our songs are lyrically-driven," he said. "Our hope is that you'll hum along to the melodies and then the lyrics will also hit you."
The band started as a duo when Marsh and Caitlyn Deviney performed together in a production of "Oklahoma" as middle school students. Through a school choir, they later met bassist Dan Moser and jazz-loving twin brothers Ben and Luke Morris and decided to coalesce their harmonies and songwriting skills with the musical talents of their new friends.
Marsh said that one of the pleasures of a Sunday Muse concert is watching the band members switch instruments. While he and Deviney share lead vocals and Moser plays bass, Ben alternates between banjo and guitar, while Luke switches between drums and mandolin. Marsh also accompanies on accordion or percussion to help create a captivatingly eclectic sound. Marsh describes that sound as shifting between foot-stomping jolts of energy to slow jams as the lyrics explore honest tales of loss, change and renewal.
At the May 18 concert, Sunday Muse will perform mostly original songs, many written by Deviney. They released two singles, "Fool's Gold" and "New England," and are completing the mixing of their first full-length album.
Opening for Sunday Muse is Under the Oak, a band Marsh describes as "dreamy, classic folk."
The event is sponsored by Penn State Abington Cultural & Community Events.
If You Go
Sunday Muse will perform on Thursday, May 18, at the amphitheater at Penn State Abington, 1600 Woodland Road. Rain location: Sutherland Auditorium. Free admission.
Penn State Abington, formerly the Ogontz campus, offers baccalaureate degrees in 18 majors at its suburban location just north of Philadelphia. Nearly half of our 4,000 students complete all four years at Abington, with opportunities in undergraduate research, the Schreyer honors program, NCAA Division III athletics, and more. The Lions Gate residence hall will open in August.