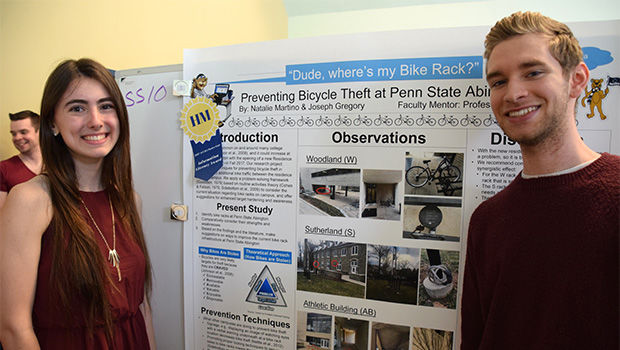 ABINGTON, Pa. — The Penn State Abington Library in cooperation with Penn State University Libraries established Information Literacy Awards for undergraduate research projects this year.
The awards recognize scholarly work based on a foundation of careful background research and literature review. The winners demonstrated excellence in information literacy through background research and literature review and/or the use of manuscript, archival or other primary resources to conduct original research.
Abington head librarian Dolores Fidishun, Ed.D., spearheaded the awards. Fidishun leads a coordinated effort that encourages students to explore the wealth of information available and identify quality resources most relevant to scholarly inquiry.
One winner was chosen in each of the campus' three academic divisions during the annual ACURA (Abington Undergraduate Research Activities) poster fair last week.
Division of Arts & Humanities
"Seventeenth Century Medicinal Recipe Keeping and its Progression of Social and Environmental Feminist Perspectives" by Rachael Shulman
Faculty Adviser: Marissa Nicosia
Division of Science & Engineering
"Electrophilic Substitution Reactions of Tryptanthrin" by Patrick Lamping and Jamie Madison
Faculty Adviser: John Scovill
Division of Social Sciences
"Don't Go Toward the Light! How Light Pollution Affects Perceptions of Natural Settings in National Parks" by Robert Nutt
Faculty Adviser: Jacob Benfield
Honorable Mentions
"'Dude, Where's My Bike Rack?': Preventing Bicycle Theft at Penn State Abington" by Joseph Gregory and Natalie Martino
Faculty Adviser: Oren M. Gur
"Has The Story Changed?: Children's Picture Books About Illness and Disability Over the Decades" by Courtney Colkett-Harvey and Darby McGurk
Faculty Adviser: Judith L. Newman
Penn State Abington, formerly the Ogontz campus, offers baccalaureate degrees in 18 majors at its suburban location just north of Philadelphia. Nearly half of our 4,000 students complete all four years at Abington, with opportunities in undergraduate research, the Schreyer honors program, NCAA Division III athletics, and more. Students can start the first two years of more than 160 Penn State majors at Abington and complete their degrees at University Park or another campus. Lions Gate, our first residence hall, will open in August.