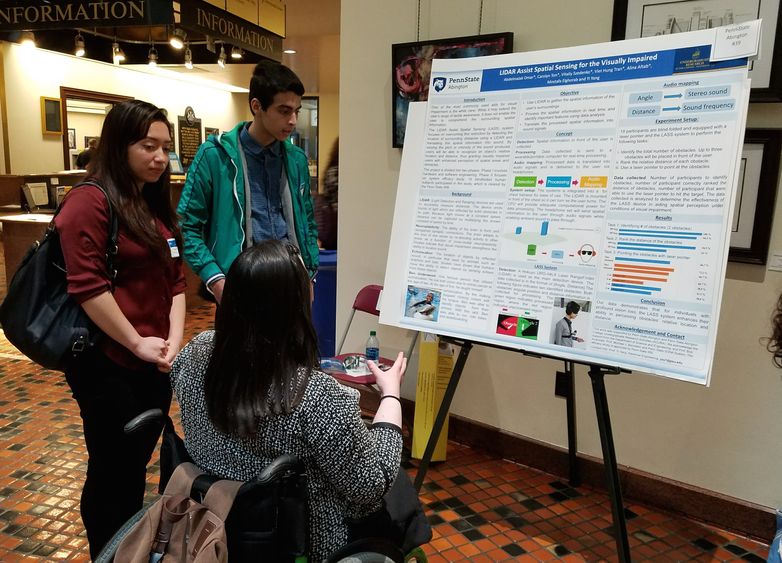 ABINGTON, Pa. — Two Penn State Abington students presented their award-winning research this week to state legislators at the 15th annual Undergraduate Research at the Capitol poster conference in Harrisburg.
Yi Yang, assistant professor of electrical engineering, accompanied students Abdelmalak Omar and Carolyn Ton. They exhibited their project on applying a sensing method known as LIDAR to convert spatial information into sound for the visually impaired. By varying the pitch or intensity of the sound produced, users will be able to recognize an object's relative location and distance, thus granting a visually impaired user enhanced perception of spatial areas and obstacles.
Vitaliy Szedenko, Viet Hung Tran, Alina Aftab and Mostafa Elghorab completed the student team but did not travel to Harrisburg. 
The abstract for the project, titled "LIDAR Assist Spatial Sensing for the Visually Impaired," explains that "One of the commonly used aids for visual impairment is the white cane. While it may extend the user's range of tactile awareness, it does not enable the user to comprehend the surrounding spatial information. This project focuses on overcoming this restriction by detecting the location of surrounding obstacles using a LIDAR (a sensing method that measures distance to a target by illuminating it with a pulsed laser light and measuring the reflected pulses with a sensor) and translating this spatial information into sound. By varying the pitch or intensity of the sound produced, users will be able to recognize an object's relative location and distance thus granting visually impaired user with enhanced perception of spatial areas and obstacles."
Omar and Ton answered questions from visitors, including Rep. Madeleine Dean, whose 153rd district includes Abington, and Liana E. Walters, legislative director for Sen. Art Haywood of the Fourth District, which includes the college.
The Abington trio joined undergraduates from other Penn State campuses, as well as other colleges and universities across the Commonwealth, networking and engaging with members of the state legislature and their staffs.
Yang, who served as the faculty adviser on the research project, and the students toured the chamber of the House of Representatives and observed a session.
"The building is astonishing, and it was great to experience state-level democracy," Yang said.
The students initiated the project as part of Abington's flourishing undergraduate research program, ACURA. Their research was awarded a blue ribbon in the ACURA competition for 2016-17 in the Division of Science and Engineering.
Three of the Abington student researchers were honored recently at the Abington Awards and Leadership Reception. Ton completed the college's rigorous honors program while Omar earned awards for math achievement and physics. Szdenko was honored as the outstanding engineering student.
Viet Tran received a scholarship from the 2017 Multi-Campus Research Experience for Undergraduates program. He will be working with Yang and Yanxi Liu, professor computer science and engineering, at University Park for summer research.
Penn State Abington, formerly the Ogontz campus, offers baccalaureate degrees in 18 majors at its suburban location just north of Philadelphia. Nearly half of our 4,000 students complete all four years at Abington, with opportunities in undergraduate research, the Schreyer honors program, NCAA Division III athletics, and more. Students can start the first two years of more than 160 Penn State majors at Abington and complete their degrees at University Park or another campus. Lions Gate, our first residence hall, will open in August.