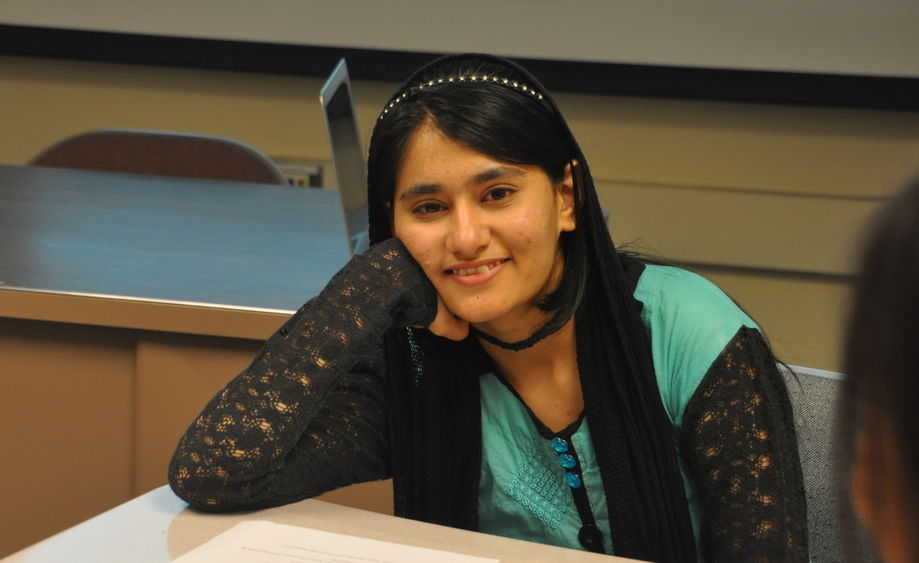 ABINGTON, Pa. — A group of recent immigrants from a nearby high school spent the day at Penn State Abington recently to learn how to prepare for college and to demystify the college application process.
The Neshaminy High School students sat in on a class with Abington international students and spoke with faculty and staff about transitioning to college life and supports available to them.
This is the second time Michael Brown, English as a second language teacher at Neshaminy, and  Roxanna Senyshyn, assistant professor of applied linguistics at Abington, connected to work with this group of high schoolers. 
"Several months ago, Michael expressed an interest in collaborating with Abington to inform his English Language Learners, or ELLs, about college readiness and the opportunities we provide to help them improve their academic language skills if they are admitted to Abington," Senyshyn said.
In January, she brought Abington faculty and admissions staff to Neshaminy and met with 26 ELLs in grades nine through 12. The students moved to the United States from Pakistan, Ukraine, Uzbekistan, Haiti, Mexico, Turkey and India.
"The goal of the visit was to discuss admissions requirements and, most importantly, to talk about our Academic Integration Courses, coordinated by Jaehan Park, and other support services Abington provides," Senyshyn said.
The next stop for the high schoolers was a field trip to Abington. They explored the Learning Center, where students go for tutoring in an array of subjects and writing assistance. And they sat in on an Effective Speech Academic Integration Course with current international students. 
Their day closed with a visit to the Lares Student Union Building so they could explore the social side of life at an American college.
+++++++++++++++++++++++++++++++++++++++++++++++++++++++
Penn State Abington, formerly the Ogontz campus, offers baccalaureate degrees in 18 majors at its suburban location just north of Philadelphia. Nearly half of our 4,000 students complete all four years at Abington, with opportunities in undergraduate research, the Schreyer honors program, NCAA Division III athletics, and more. Students can start the first two years of more than 160 Penn State majors at Abington and complete their degrees at University Park or another campus. Lions Gate, our first residence hall, will open in August.