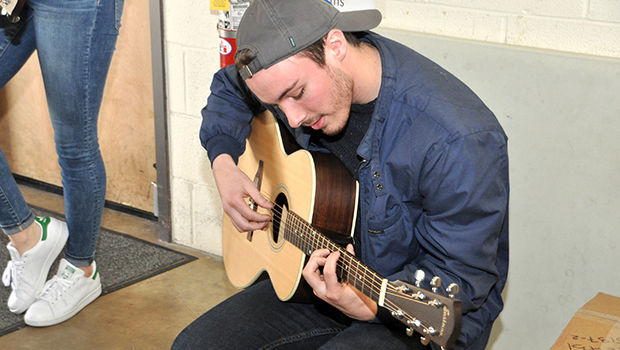 ABINGTON, Pa. — Two Penn State Abington faculty members recently established a partnership that makes world-class guitars available to students taking music courses and lessons on campus.
John Pachence, lecturer in music, and Roy Robson, division head for Arts and Sciences, connected with Eastman Guitars executives at a music industry conference in January. They quickly reached an agreement to purchase eight instruments at a steep discount. 
Working with Eastman was straightforward when the firm learned about Abington's growing performing arts program.
"It was like pushing through an open door," Robson said.
The guitars arrived late last week. Robson, Pachence and two students carefully, very carefully, cut open the boxes and lifted the guitars out of the cases. The students, as one would expect, immediately began strumming the fresh instruments. 
Six of the carefully crafted acoustic guitars will be available to Abington students while the remaining two will be used by faculty. 
One partnership led to another
Yamaha Entertainment Group, an existing Abington partner, offered Pachence and Robson coveted tickets to the industry-only National Association of Music Merchants (NAMM) convention in Anaheim, California.
They didn't know what to expect from the event, but the results went far beyond what they could have imagined. The duo laid the foundation for the partnership with Eastman Guitars.
Representatives from Martin Guitar Co. also were at NAMM, and Robson and Pachence successfully connected with them as well. As a result, they will drive Abington students to the home of Martin Guitars, about 60 miles from campus, in April for a tour. 
When they weren't focusing on the business of music, Pachence said they were "nerding out." Who were they nerding out over? Music legends including Ahmet Zappa, Stevie Wonder, and U2 drummer Larry Mullen Jr. happened to cross their paths at NAMM, too.
It sounds as if the trip was full of high notes for Penn State Abington.