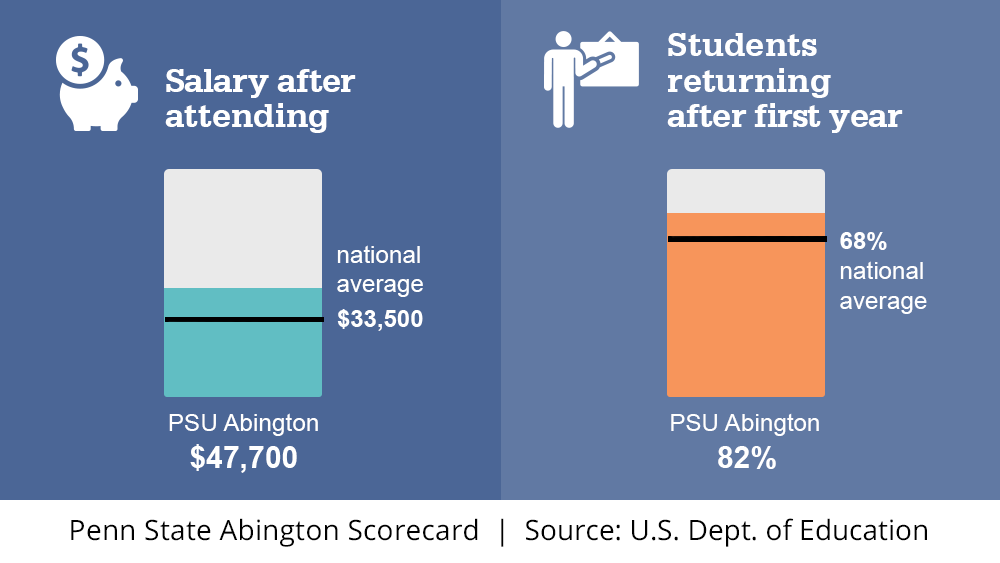 ABINGTON, Pa. — Data from the annual College Scorecard released by the U.S Department of Education (DOE) revealed good news for prospective and current Penn State Abington students: An Abington degree sets them up to earn annual salaries $14,000 higher than the national average.
The DOE reports an average annual salary of $47,700 for Abington graduates who received federal financial aid. Nationally, those with degrees from four-year public institutions earned an average of $33,500 each year. Salaries were measured for graduates 10 years after enrolling.
Steven Mostert, director of enrollment management at Abington, said the college delivers superior results for students.
"Our cost affords students a fantastic return on their financial investment demonstrated by their higher than average post-graduation salaries," he said.
Abington ranks above the national average in several important categories, reinforcing its position as one of the region's best values. Among the areas where the college stands out:
Abington's average tuition of $11,843 is more than $4,000 below the national number for a four-year public institution. DOE analysis reveals Abington has one of the lowest costs in the Philadelphia region.
The graduation rate at Abington is 6 percent above the national average.
The retention rate stands at 82 percent after the first year of college, 14 percent above the national average.
72 percent of the students earn, on average, more than those with a high school diploma.
Joe Oakes, program chair for the Information Sciences and Technology (IST) degree at Abington, expanded on the federal data. Oakes reported an 85 percent employment rate for IST graduates over the last decade. Starting yearly salaries range from $55,000 to $65,000. Within five years, students can hit the $100,000 mark by pursuing master's level coursework.
Expanding Supports for Student Success
Abington recently launched initiatives to increase retention and academic success. The college refreshed its advising and learning support centers, and its first Coordinator for Student Success will spearhead many efforts.
The new Abington Laboratory for Innovation in Teaching and Education (ALITE) will help improve teaching practices and academic performance and increase graduation rates.
Abington enrolls almost 4,000 students, and is one of the largest campuses within the Penn State system. It is among the most diverse as well: 50 percent of the student body is nonwhite and more than 30 percent of students come from households living below the federal poverty level.
The federal Department of Education releases the College Scorecard as a consumer tool to provide accessible national data on cost, graduation, debt, and post-college earnings. 
+++++++++++++++++++++++++++++++++++++++++++++++++++++++++++
Penn State Abington, formerly the Ogontz campus, offers baccalaureate degrees in 18 majors at its suburban location just north of Philadelphia. Nearly half of our 4,000 students complete all four years at Abington, with opportunities in undergraduate research, the Schreyer honors program, NCAA Division III athletics, and more. The Lions Gate residence hall will open in August.