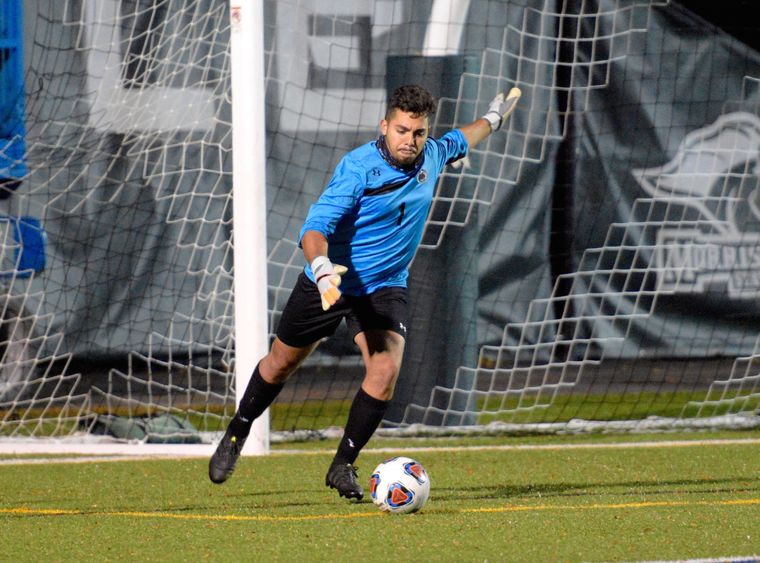 ABINGTON, Pa. — Leaving the Caribbean to play soccer at Penn State Abington wasn't easy for goalkeeper Jose Arroyo. But his dreams fuel the aspiring architect. With the support of his new coach and teammates, he quickly learned to balance life as a student-athlete with playing for the Puerto Rican national team.
Arroyo keeps a hectic schedule year-round. He's a sophomore, and his fall classes include chemistry, physics and calculus. On a typical day, there's practice until 11 a.m., he heads to a three-hour class, studies or trains for a few hours, and then another class runs until 7:30 p.m. 
Games consume the weekends, which often require travel and take the team as far as northern New York state. The offseason includes indoor soccer and training with Abington, the Puerto Rican, and club teams.
"I'm killing myself between school and soccer," he said, laughing, as he nursed a turf burn on his leg.
David Castellanos, men's head soccer coach, met 19-year-old Arroyo at a showcase in Puerto Rico.
"When I recruited Jose, I knew he was going to be something very special for us," said Castellanos, the North Eastern Athletic Conference men's soccer coach of the year. "His leadership qualities coupled with his excellent soccer skills really align to our core values."
Arroyo started playing soccer at age 7 and moved to goalkeeper before he turned 10. Years of hard work led coaches to choose him as the second goalie on the Puerto Rican Football Federation, or national, team. He traveled to Cuba, Guadeloupe, Portugal, and Spain with the national team, but he declined a trip to India last spring due to commitments at Abington.
Arroyo said although he arrived at Abington with no family or connections in the Philadelphia area, his teammates made it easier.
"The first year I was all alone here, and they were really good to me," he said. "And Ricky Domico, he's the man. He's taken me everywhere. He's my best buddy and captain of our team."
The North Eastern Athletic Conference noticed Arroyo's achievements on the field, naming him to its second team all-conference for the 2016 season. And Castellanos couldn't be happier.
"We are extremely proud of Jose, as he is succeeding in the classroom and on the soccer field," he said. "He is a major piece to this program, and he accepts this role wholeheartedly."