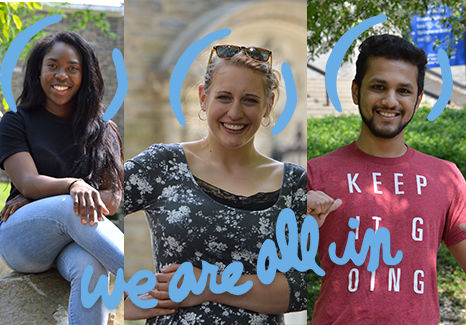 Banks of windows and sets of French doors nearly dissolve the barrier between the spacious office and the Penn State Abington campus. The adjoining porch sits along one of the college's busiest paths.
The open design and high visibility location of the new home for the Office of Diversity, Equity, & Inclusion (DEI) at Abington is intentional, according to director Jose Rodriguez.
"There are no more walls at Abington," he said. "Anyone is welcome to come in here to sit and have lunch. This space is open for all."
"There are no more walls at Abington. Anyone is welcome to come in here. ... This space is open for all." Jose Rodriguez, Office of Diversity, Equity, and Inclusion
For years, the campus has attracted a diverse student population from Philadelphia, the suburbs, and around the world. The community embraces inclusion, which has led Abington to become a majority minority campus and the most diverse within Penn State.
With the support of Abington Chancellor Damian J. Fernandez, Rodriguez's office has evolved, too. DEI recently move from a small second floor office to the first floor of the Lares Union Building with additional staff and expanded resources and goals.
Rodriguez said the office was renamed DEI this summer so its mission is crystal clear to all:
Diversity: "We want to make people aware of their multicultural selves and how they can interact with greater community," Rodriguez said.
Equity: "We keep people mindful of their power and privilege and how they can use it to make positive change," he said.
Inclusion: "We are mindful as a community that we still have to make strides, How is inclusion being reflected in hiring and in programs we offer? We are doing best job we can to reflect the actual community," he said.
"All of our programs are focused on one of these areas," Rodriguez said. "Nothing more, nothing less."
DEI staff are excited about the changes and expansion of their role. Rodriguez leads the team with 22 years at Abington, followed by seven-year veteran John Nguyen. Anyi Ye joined the office this summer.
Nguyen, assistant director of DEI, works primarily in a counseling role while facilitating trainings for faculty, staff, and students.
Anyi arrived this semester as the international student advocate/advisor. She and Rodriguez resolve issues regarding documentation and health insurance in addition to working to bridge cultural misunderstandings that could affect learning outcomes.
For example, an opinion or question from an international student may initially sound judgmental or offensive. But if one considers how a subject — say, American history — is taught in another culture, it casts a different light on the conversation. Faculty work with Anyi, too, so she can help interpret cultural context in assignments and essays.
"The professor may assume something negative or think the student didn't respond appropriately or understand the assignment," Rodriguez said. In reality, the work is often influenced by the student's previous exposure to the subject.
"We keep people mindful of their power and privilege and how they can use it to make positive change." Jose Rodriguez, director, DEI
DEI connects with the college as whole, too. Best practices start with learning to pronounce a person's name correctly whether one works in athletics, administration, or the classroom. Many names reflect religious or family significance so knowing a person's given name is important for greater community.
"There's a difference between assimilating and changing your identity," Rodriguez said, "and a difference between a nickname and not changing your self-identity."
Other best practices include encouraging people to pause and to speak slower so students can process the conversation and take notes.
DEI staff staged an international coffee hour on the patio adjoining its office, welcoming anyone who walked by for late day drink and snack. Outdoor curtains are in the works so Muslim students may have privacy if they choose to use the space for prayer. 
"Being conscious of the little things is a big thing," Rodriguez said. DEI provides passive activities and more intense personal development such as the diversity leadership retreat.
Rodriguez is adding outreach to his plate, offering trainings in middle and high schools.
As they continue to make a positive impact and expand their reach, Rodriguez and his staff are enjoying the fishbowl atmosphere of their new space.
"Being more visible helps us build more connections," he said. "This space helps us weave it all together."
++++++++++++++++++++++++++++++++++++++++++++++++++
Penn State Abington, formerly the Ogontz campus, offers baccalaureate degrees in 18 majors at its suburban location just north of Philadelphia. Nearly half of our 4,000 students complete all four years at Abington, with opportunities in undergraduate research, the Schreyer honors program, NCAA Division III athletics, and more. A state-of-the-art residence hall will open in August 2017.