'We've always been all in at Abington'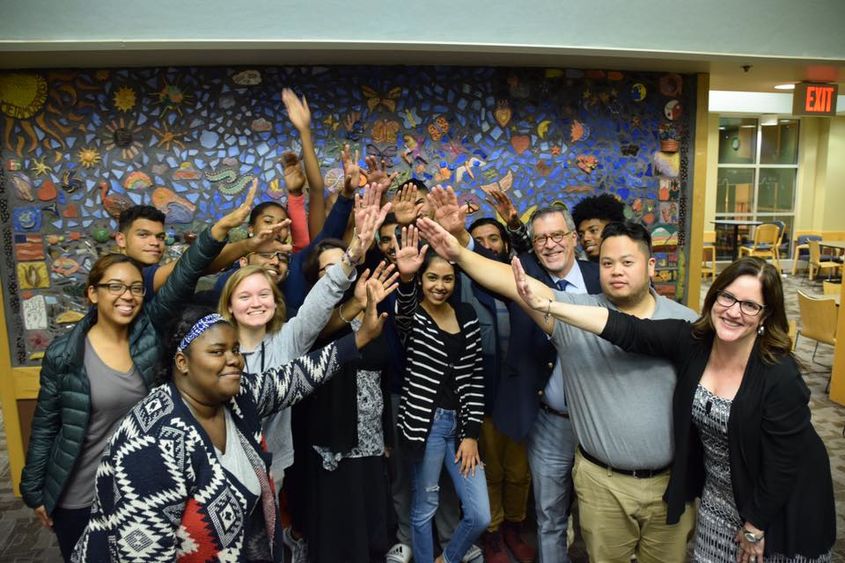 Cheers erupted at Penn State Abington and at least one student held back tears last night at the launch event for All In at Penn State: A Commitment to Diversity and Inclusion.
The audience agreed before the live stream that All In was a positive program, but at Abington these values have long been woven into the culture. Abington College is a majority minority campus and the most diverse within Penn State.
"We've always been 'All In,' " senior Nikita Arnett said.
They watched Penn State President Eric Barron pepper his remarks with phrases such as "We Are diverse, We Are inclusive, ... ." But what prompted the roar of approval at Abington?
"We Are Black Lives Matter," Barron said.
Hearing the leader of her University utter those words momentarily overwhelmed Arnett. She bit her lip and pressed her hand to her heart as she tried to describe the feeling.
"It was so nice to hear that acknowledgement of Black Lives Matter," the psychological and social sciences major said. "It made me feel emotional to hear it from Dr. Barron. It reinforces that I am doing good work"
Her friend Morgan Kelly said, "I've never been so proud to be a Penn Stater."
"The Abington community is richer because we are diverse and inclusive." Morgan Kelly, Abington senior
Charlena Frank, Student Government Association president, said she was shocked and relieved to hear Barron publicly recognize the cause.
"It shows he believes that all students need to be included," she said. "He gets it. I was already 'All In,' but after tonight, I'm really in."
Kelly, a Lion Ambassador tour guide for prospective students and families, said "the Abington community is richer because we are diverse and inclusive."
__________________________________________________________
Penn State Abington, formerly the Ogontz campus, offers baccalaureate degrees in 18 majors at its suburban location just north of Philadelphia. Nearly half of our 4,000 students complete all four years at Abington, with opportunities in undergraduate research, the Schreyer honors program, NCAA Division III athletics, and more. A state-of-the-art residence hall will open in August 2017.