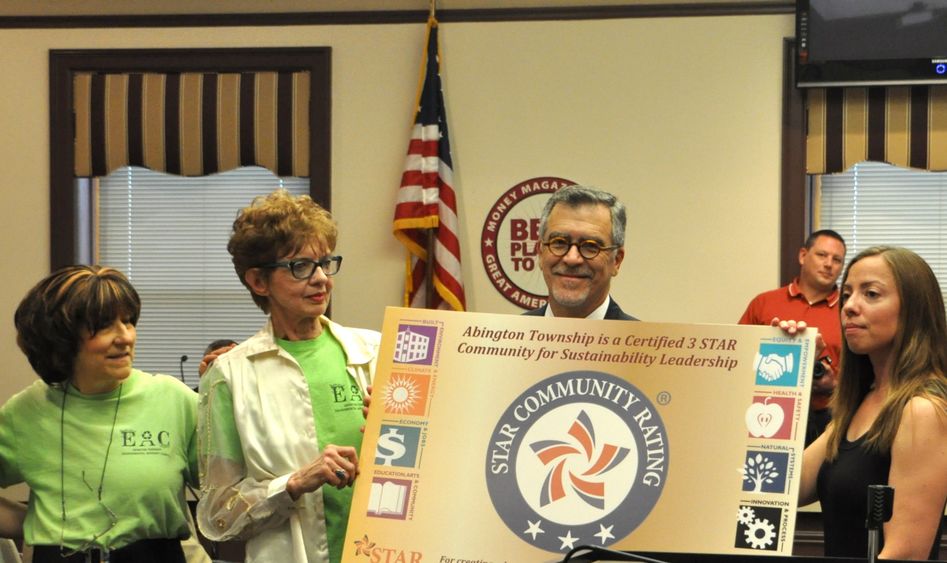 ABINGTON, Pa. — Abington Township earned a national designation as a leader in local sustainability, the result of a yearlong collaboration between 50 community partners, including Penn State Abington.
The township's economic, social and environmental efforts resulted in a 3-STAR (Sustainable Tools for Assessing and Rating) Community Certification. STAR is the nation's leading framework and certification program for local sustainability and living standards.
Emily Costello of the Delaware Valley Regional Planning Commission and Damian J. Fernandez, Penn State Abington chancellor, presented the STAR certification to the township board of commissioners.
"Great communities and great universities thrive in tandem."
-- Damian J. Fernandez, chancellor, Penn State Abington
"Penn State Abington has been pleased to partner in this effort. As a STAR Affiliate University, we're honored to welcome you into the fold and look forward to continuing to support STAR," Fernandez said. "Great communities and great universities thrive in tandem."
Wayne Luker, president of the commissioners, said it's an honor to receive national recognition for developing a safe, resilient and livable community.
"With our residents, and neighborhood, faith, civic and business community leaders, I stand ready to prioritize investments that ensure a sustainable future for Abington Township citizens," Luker said.
Abington Township is the first community in the Philadelphia region to earn a 3-STAR rating. In addition, it is the first STAR application led by volunteers rather than a governmental unit. Gary Calore, coordinator for academic and community engagement and associate professor of philosophy, managed Penn State Abington's contributions to the application.
The township earned high marks in education, arts and culture, health and safety, business retention and development, waste management, and innovation and process. The Abington Environmental Advisory Council (EAC) led the process, with its partners collecting data to measure the community's sustainability efforts in more than 500 assessment areas.
There was no cost to the township or taxpayers since a STAR Leadership Community Scholarship provided extensive training and technical assistance.
The STAR Community Rating System provides U.S. cities, towns and counties with a clear, data-driven approach to assessing their social, economic and environmental conditions and building plans for future improvement.