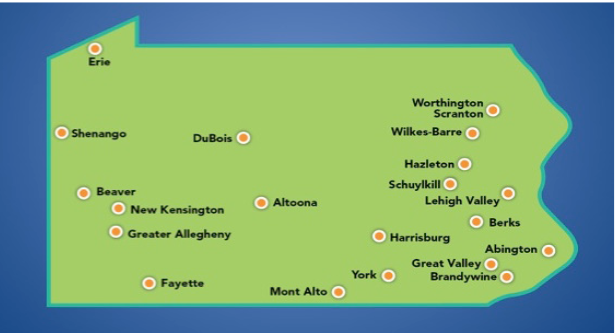 LEHMAN, Pa. – Penn State's 20 Commonwealth Campuses located across Pennsylvania not only educate more than 31,000 students, but also drive substantial community impact as employers. With more than 3,700 full-time and 4,000 part-time employees, Penn State campuses remain vital to the economic health and development of the regions they serve.
During a presentation today (July 22) to the Penn State Board of Trustees, Nick Jones, Penn State executive vice president and provost, extolled the virtues of the campuses that blanket the state and provided an overview of one of America's most unique university structures.
Penn State's 20 Commonwealth Campuses vary in size and program offerings, Jones said, but all advance the University's mission and serve their broader communities in multiple ways. Penn State's unique structure —"one university, geographically distributed" —provides for an accessible Penn State education with choices to fit most personal situations, preferences and challenges. A primary goal of the campus structure is to make a quality education accessible to residents of the Commonwealth. In fact, about 55 percent of Penn State's first-year students—associate and baccalaureate—start at a Commonwealth Campus, according to Jones.
The 31,000 students who are enrolled in a Commonwealth Campus constitute 36 percent of Penn State's total residential student body. About 85 percent of these students are Pennsylvania residents and 37 percent are first-generation college students.
Jones said that affordable and accessible education is not the only goal of the campuses. As a University, Penn State also is focused on the economic vitality of communities it serves.
"Driving economic development and community renewal is a key supporting element stated in our strategic plan. With campuses throughout the Commonwealth, we have a unique presence in, and commitment to, these campuses' communities," Jones said. "Our health as an institution is drawn in part from the well-being of these communities, and we have a crucial responsibility to them."
One initiative highlighted by Jones is "Invent Penn State," which debuted in January 2015 as a strategic imperative introduced by Penn State President Eric Barron. The program, envisioned as a way to leverage the University's size and broad research strengths to help drive job creation, economic development and student career success, has grown to include 13 hubs for innovation spread across Pennsylvania.
Each of the 13 innovation hubs have received $50,000 from Penn State in seed grant funds to launch.
"We are taking advantage of Penn State's numerous locations throughout the Commonwealth and enhancing their impacts as engines of local and regional growth," said Jones. The following Penn State campuses are currently part of the Invent Penn State initiative: Abington, Altoona, Behrend, Berks, Great Valley, Harrisburg, Lehigh Valley, New Kensington, Schuylkill, Shenango, University Park, Wilkes-Barre and York.
"These seed funds are also leveraged locally. Community partners in most cases have matched University seed support by contributing physical spaces, cash prizes for start-up competitions, and/or professional time and expertise to budding entrepreneurs," Jones said.
For Jones' full report to the Board, go to http://www.psu.edu/ur/newsdocuments/Provost-Report-BOT-07-22-16.pdf