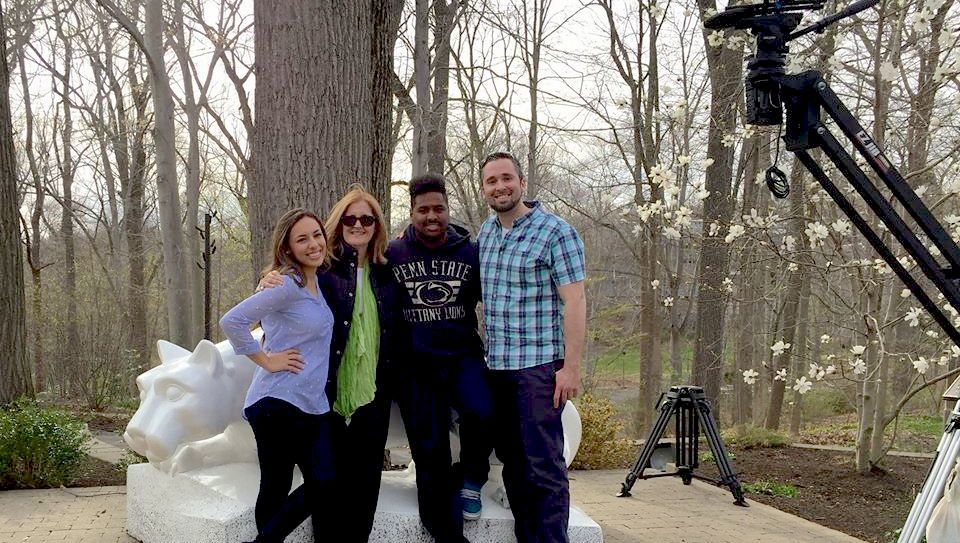 ABINGTON, Pa. — When Penn Staters connect, magic happens. Gloria Lewis, a 1979 alumna, and David Rocchino, a 1981 Penn State graduate, met through their children, and it lit a creative spark that produced an award-winning commercial for Penn State Abington.
The Lewis and Rocchino families became friends when their sons roomed together at University Park. David shared his involvement at Abington — as a donor, longtime advisory board member, and adjunct instructor — and knew Gloria could make a difference at Abington.
Lewis and her producing partner, Bill German, run Cornerstone Pictures from their office in suburban Philadelphia. They serve a regional and national client base, including producing the Philadelphia-based scenes for the CBS television series "Cold Case."
"Gloria wasn't familiar with the Abington campus, but David knew her love for Penn State and her professional experience could make a big impact on the college. So he introduced us to Gloria," said Lydia Kokolskyj, director of development at Abington.
Soon Lydia and Chancellor Karen Wiley Sandler met Gloria, which led to her appointment to the campus' advisory board.
Gloria eventually offered to donate Cornerstone's time and talent to develop a commercial, the first solely for Abington. She and her team wrote, directed and edited the piece. Cornerstone shot it using the high-end bullet-time special effects from the hit film "The Matrix."
"She and her team took the time to visit the campus several times, and speak with students, faculty and staff to understand who we are," Kokolskyj said. "They beautifully captured it in the commercial."
"The Moment" features Abington students and earned recognition from CUPRAP (College and University Public Relations and Associated Professionals). The 30-second piece won a bronze CUPPIE in the category of electronic media-video produced by an agency.  
"It was a very generous gift, and so meaningful to all of us who love Penn State Abington," said Kokolskyj. "We couldn't have done this on our own, and no one could have done it better." 
Gloria continues to serve the campus as chair of the marketing committee of the advisory board, a team of alumni and regional leaders who provide support and advice to the campus.