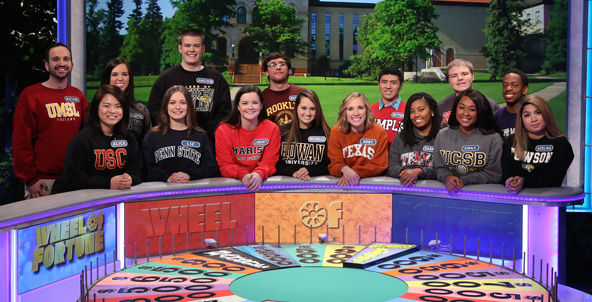 ABINGTON, Pa. — Liz Janoski proved two things Friday night: She can keep a secret like an undercover agent, and she has mad skills solving "Wheel of Fortune" puzzles.
The Penn State Abington senior won almost $50,000 on the game show's College Road Trip in Los Angeles several weeks ago. But she couldn't tell anyone until the episode aired April 1.
After a watch party with family and friends, the education major said, "I'm still so overwhelmed, and I'm not completely sure what I will do with my winnings. I will definitely invest it in my future."  
Family of 'Wheel Watchers'
The Janoskis are avid, passionate and committed "Wheel Watchers," so Liz and her brother took a road trip to Atlantic City, New Jersey, last summer to audition for the game show. A few weeks later she received an invitation to the next tryout in Philadelphia.
"They wanted to hear if we had loud and energetic voices for the show, and if we called 'smart' letters," Liz said. "We also solved puzzles and took written tests."
Told she would be notified by letter if she made the cut, Liz checked the mail every day. Nothing. But about 10 days before college week, she received an email asking her to respond immediately if she wanted to compete in California.
"I really thought it was a scam or a joke when I first read it, but it turned out to be true," she said. "I packed my bags and got ready to play."
'Pat, I want to buy a vowel'
Liz, who had never flown before, said the excitement started as soon as she arrived at the studio on a special shuttle for the student contestants.
"I was in awe of everything," she said. "We had to sign lots of papers, and, my favorite part, got our hair and makeup done. I felt like a celebrity!"
She said the show's iconic hosts, Vanna White and Pat Sajak, put the contestants at ease as they practiced.
"The wheel was SO heavy," she said. "And the studio looks so much bigger on TV."
Walking with the stars
After the taping, Liz and her parents celebrated "the once-in-a-lifetime opportunity" with a special dinner. Then, they spent the rest of the long weekend sightseeing, including the Walk of Fame and the Hollywood sign.
"We squeezed a whole lot of trip into about a day and a half," she said. "We went to the beach, and I got to dip my feet in the Pacific Ocean!"
Liz even brought home a lesson from the trip to the second-graders she is student teaching at Groveland Elementary in Doylestown. The Janoskis visited the La Brea Tar Pits, an Ice Age excavation site in Los Angeles.
"When I got back, I was teaching my students about fossils, so I was able to show some pictures from the museum and tar pits and make that connection," she said.
Worth the wait
Liz said her family, friends, and the school communities in the Central Bucks School District and Penn State Abington are thrilled about her trip. But her second-graders could barely wait to find out if she won.
"My students are so excited. They can't stop talking about it," she said. "The whole school is so supportive."
Liz said she keeps in touch with some of the other college players from her "Wheel of Fortune" experience. 
"This was so much more fun than I ever thought was even possible," she said.