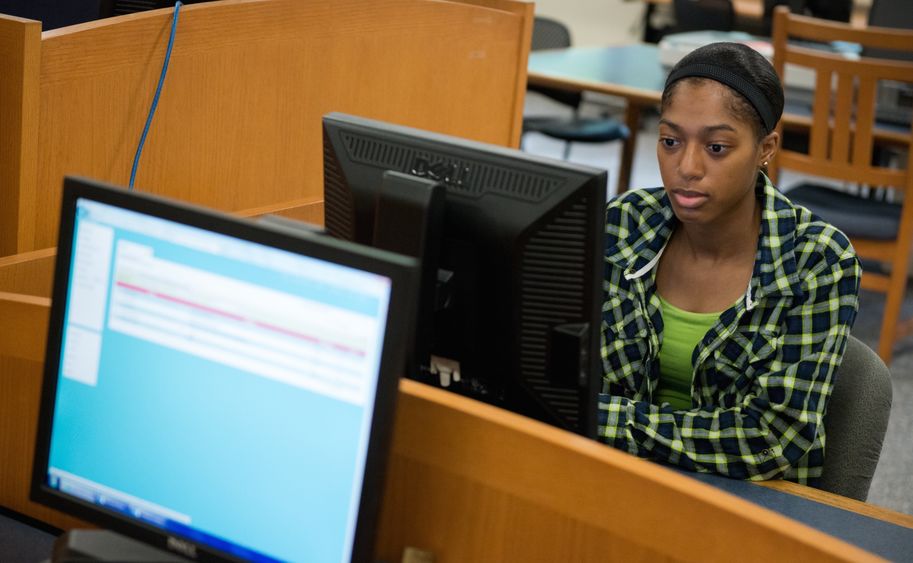 ABINGTON, Pa. — Confused in math or science? Struggling to develop an important term paper? Head to the Learning Center at Penn State Abington for live online tutoring, which the center recently added to its arsenal of student support. 
Each student is eligible for one free tutoring hour per week with NetTutor professional instructors. Since the sessions are recorded, it's convenient to review and reinforce the content. Students also can consult with a tutor outside of the online meeting and will receive responses within 24 hours.
Learning Center coordinator Jennifer Osinski said she's received positive feedback and plans to continue the service next semester. Flexibility is a major plus for students who juggle classes, work, and other obligations and can't attend the center's traditional face-to-face sessions. Osinski also said she is able to offer support in additional subject areas with online tutoring.
Marisa Licciardi, a corporate communication major, said the economics tutoring works well for her.
"It's a great way to study online with a live person," she said.

NetTutor may be integrated into Canvas, the new learning management system (LMS) Penn State is adopting. Course syllabi and assignments would be uploaded directly into the LMS, making it "much more convenient for students" to work with tutors, Osinski said.

The online tutoring covers almost 20 subject areas including science, math, English, information sciences and technology, engineering, and economics. Mandarin will be added in the spring.