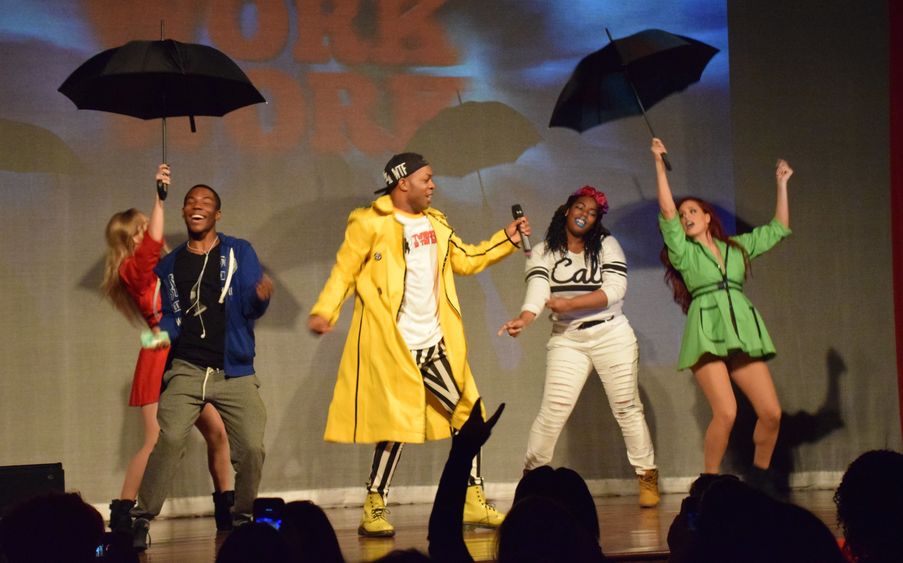 Internet superstar Todrick Hall didn't wait for Hollywood to discover him. He spent every dime he owned creating musical parodies, earning the loyalty of 1.5 million YouTube subscribers. It led to a gig choreographing the Beyonce video, "Blow," and an MTV docu-series. He urged Penn State Abington students to follow his lead during a high-energy concert/theater experience/pep talk last week.
"Surpass the gatekeepers, showcase your talents, and connect directly with people," he said during the National Coming Out Week event. "Figure out your special gift, whether it's being the best Walgreen's clerk in the world or something else."
Anyone even remotely familiar with Todrick knew the show in the packed Sutherland Auditorium would be intense. He sang and danced in the aisles, laughed at his own jokes, and even invited students onstage to dance. He was clever, charming, frank, and funny.
The season nine "American Idol" semifinalist revels in his success but easily recalls the low points —such as releasing of one of his most successful videos, only to have his car repossessed the next day. But he never wavered.

"As an African-American homosexual artist, I made a conscious decision to be true to myself," he said. "I spent all the time on 'American Idol' trying to be what I thought America wanted me to be to get votes. I would rather be less successful and be myself."
Todrick's Tools for Success:

You need BEYONCE in your life ...

Believe in yourself
Entrepreneurship
Yasss ("If an idea doesn't have yasss, think of something else.")
Own your brand
Network naturally
Challenge yourself
Evolve
Students from Lares Entertainment and Programming and Q-mmunity organized the show and shared lunch with Todrick, sidekick Chester Lockhart, and dancers Jenni Thomasson and Kaley Hatfield. The conversation ranged from how awesome is Taylor Swift (really awesome -- Todrick, Chester, Thomasson and Hatfield agreed) to behind-the-scenes questions. The performers emphasized they work as a team, collaborating and supporting each other.
Todrick posed for photos at the lion shrine while Lockhart, Thomasson, and Hatfield organized the line and snapped photos for the crowd ... an example of living the BEYONCE life.
Check out more photos on the Penn State Abington Facebook page. 
In addition to National Coming Out Week, Hall appeared as part of programming for the 2015 Abington Common Read selection, "Whistling Vivaldi: How Stereotypes Affect Us and What We Can Do." About 600 students are enrolled in courses that adopted the book, and programs are open to the campus community. A donor generously supplied the books.