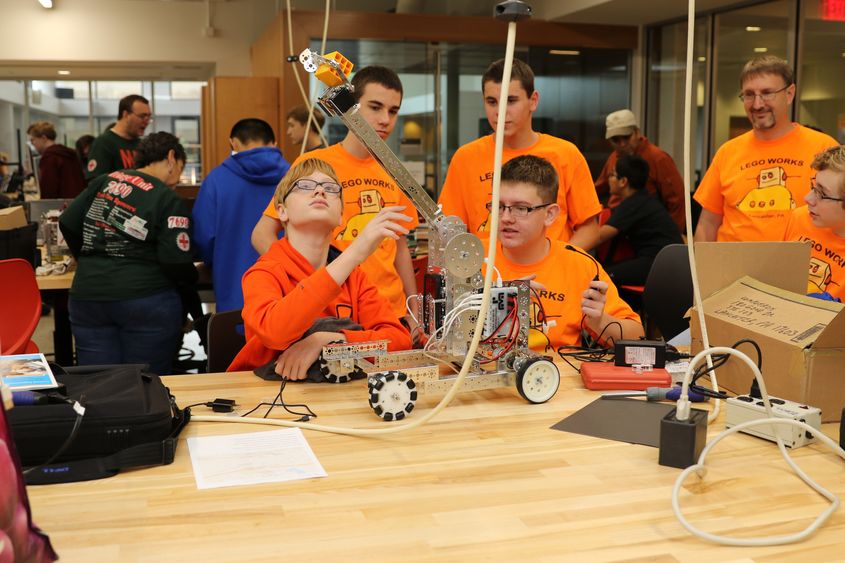 Penn State Great Valley recently welcomed budding engineers, designers and programmers to campus for Pennsylvania FIRST Tech Challenge's eastern Pennsylvania workshop called "Program It!"
Eighty local students in grades seven through 12 spent their Saturday in Penn State's recently constructed engineering suite, located at Penn State Great Valley in Malvern. The suite serves as a hub for the University's regional undergraduate engineering program between Penn State Brandywine, Abington and Great Valley.
The first two years of foundational engineering coursework are offered at both Brandywine and Abington, while the last two years of advanced engineering coursework take place at the new engineering suite at Great Valley. The program culminates in a two-semester senior design project and a summer internship in the engineering industry.
According to its website, FIRST Tech Challenge (FTC) is a robotics program for middle- and high-school students to experience the power, excitement, and fun of science, technology, engineering, and mathematics with hands-on, minds-on activities.
"Every study I've seen predicts shortages of engineers in the next couple decades to tackle the important challenges we will face," said James Nemes, Penn State Great Valley interim chancellor and professor of mechanical engineering. "One of the things we need to do is encourage students at a young age to think about careers in engineering. Events like this can really showcase what engineering is about and how cool that can be."
The event included two distinct workshops that covered robotics programming. In the introductory workshop, students learned basic programing methods of how to get their robots up and running using their cell phone's technology. In the advanced workshop, participants learned Java and more sophisticated programing techniques to run their robots. The students are preparing their robots for this year's FTC game called FIRST RES-Q. Played on a 12-foot-square field, the objective is to attain a higher score than the other team by climbing mountains, rescuing climbers, alerting authorities with rescue beacons, and clearing debris.
"These students aren't just learning engineering skills — they're learning real-world life skills," said Thomas Zawislak, FIRST Tech Challenge affiliate partner and Pennsylvania FIRST Robotics chair. "This is a perfect facility to hold our workshops, and we absolutely love what Penn State's doing with this new engineering program."
"We're thrilled to have had the opportunity to host this event," said Nemes. "If we convinced even one of these students to pursue engineering that otherwise might not have, it was well worth it. And if they choose to enter this Penn State program that's just icing on the cake."