Penn State Abington career expo flooded with recruiters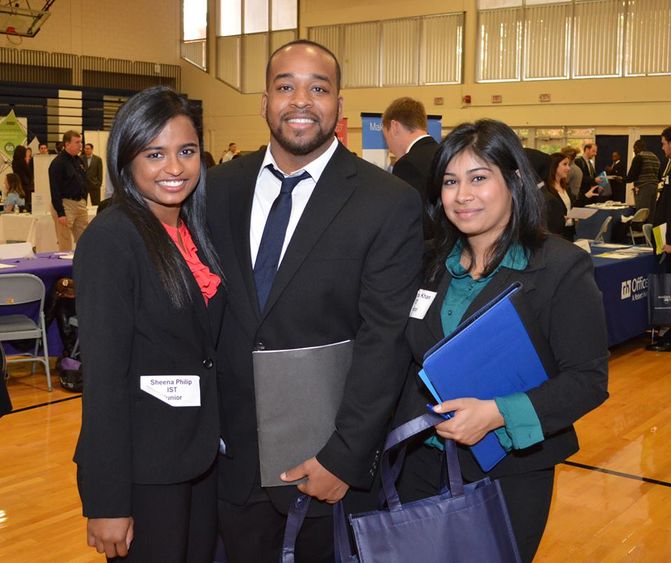 Brittany Lucchesi walked a mile -- at least -- in her dress shoes attending career events long before she graduated, perfecting her pitch and establishing contacts. The mileage paid off a week after earning her degree when she started working for a firm she connected with at a Penn State Abington career expo.
Last week, Lucchesi returned -- still in dress shoes -- to Abington for the annual fall expo but this time as a recruiter for The Carney Group, one of a record 72 organizations that set up shop in the athletic building.
More than 300 students created a buzz campus wide, wearing suits to class instead of hoodies and Uggs. But before one dress shoe-clad foot hit the gym floor, they had to pass inspection by Ethel O'Dea, who organizes the twice yearly expos.
Jeans? Sorry, no admission. Forgot a suit jacket? Walk around the corner and borrow one from the student service organization ENACTUS. The group stages the Career Closet each semester prior to the expo, selling business attire in excellent used condition at steep discounts.
Students who have successfully found positions through the expo said following Career Development staff recommendations is key: scour the list of companies attending the event, research the best matches, and develop an updated resume and conversation points.
"It will be a very hard decision picking candidates."

-- Recruiter
The advance work pays off, according to employers. A whopping 96 percent rated the Abington expo excellent to very good in quality and number of applicants.
"The students were very prepared, polished and professional," a representative of Sapling Inc. wrote.
Recruiters from the Pennsylvania State Civil Service Commission and the Bucks County court system, said, "It will be a very hard decision picking candidates."
Many firms make the Abington spring and fall career fairs regular stops in their recruiting outreach, and this year's event attracted 23 new employers. O'Dea credits the increase in part to the flourishing Abington alumni network. Fourteen Abington graduates - including Brittany Lucchesi from Carney - turned out last week looking for employees and interns.
The Career Development Center at Abington provides a variety of services to alumni and current students searching for full- and part-time positions as well as internships and co-ops. For more information, go to www.abington.psu.edu/career-development.