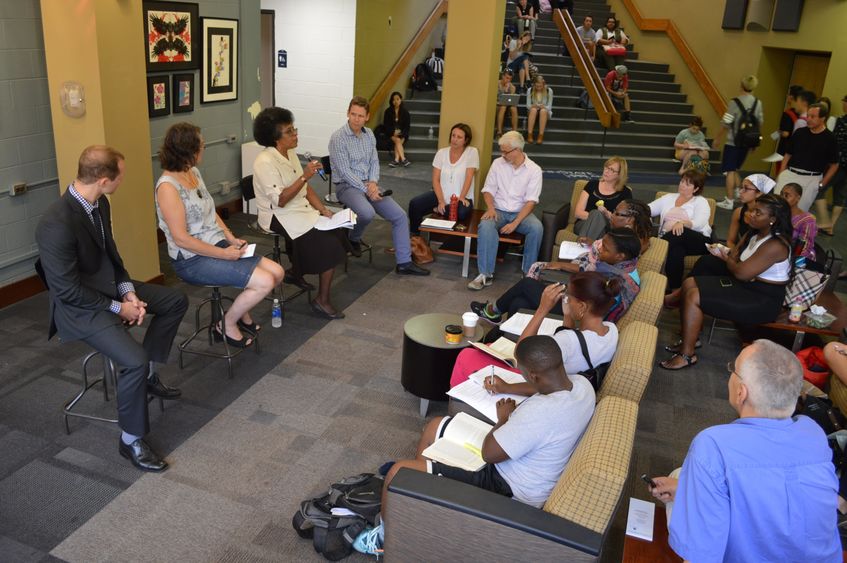 "Outraged but not surprised."
Several Penn State Abington students echoed the speaker, nodding emphatically in agreement. Those four words distilled the feelings of many in the crowd about the death of Michael Brown, whose shooting by a police officer led to massive protests in Ferguson, Missouri, last month.
The dialogue, called a teach-in, quickly drilled down to the thorny topics of race, class, and police brutality. But it's the kind of conversation that happens frequently at Abington, a byproduct of the campus' diversity. Experiences and opinions are shared inside and outside class so current and sometimes controversial issues are woven into the fabric of the community.
Three faculty members led off the Ferguson conversation by offering context from their areas of expertise: history, African-American studies, and biosocial criminology. Sharon Holt, one of the newest members of the Abington community, said accountability for hate speech is an important first step.
"Hate doesn't happen if the haters don't speak," Holt, a lecturer in history, said. "You have to catch the arsonist before they light the fire."
One student pointed out that Ferguson crossed - and united - cultures, with Palestinians tweeting support to the Missouri protestors from thousands of miles away.
"The Palestinians were telling people how to protect themselves from tear gas," she said.
The audience expressed disgust over the way language and images filtered through traditional media effect events and how it exacerbates the tendency to blame victims.
And as impressive as conversation is that students feel safe sharing ideas or thoughts that may not be popular.
One student nervously stepped forward with the microphone.
"I work in a store. What if I accuse someone of a different race of stealing?" she said. "I don't want to be seen as a racist."
Valeria Harvell, associate professor of African-American studies and a longtime member of the community, closed by challenging the audience: "What do we do? You are the best and the brightest. What do we do?"