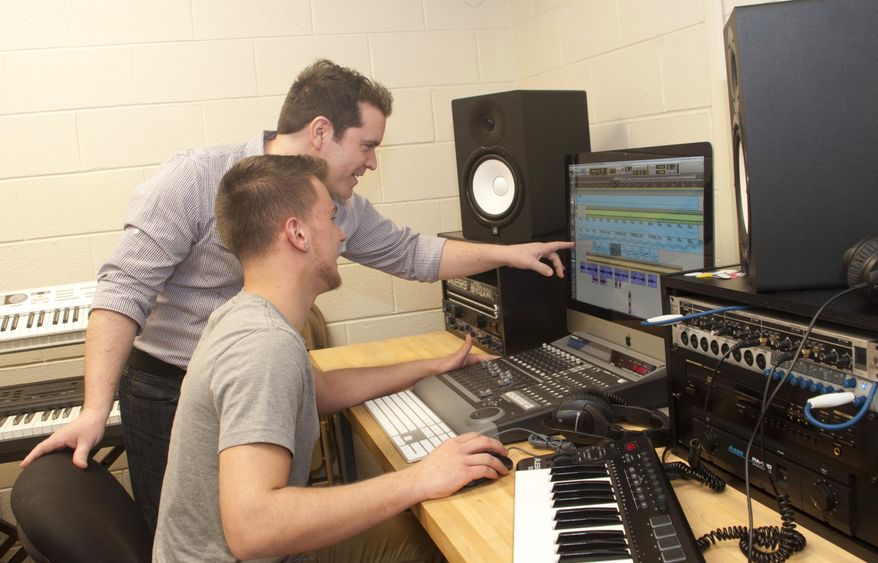 What do you want to do when you grow up? Even as a 10-year-old, Dave Lisowski's response always revolved around music: a singer, an actor in musical theater or a recording artist. But a course the first-year student enrolled in at Penn State Abington this semester is giving him hands-on experience in another facet of the music industry.
In a recent post on the Abington Lions Tales student blog, Lisowski describes the intricacies of audio engineering that he is exploring through INART 258A, Fundamentals of Digital Audio:

"Audio engineering is the recording, manipulation, mixing and reproduction of sound in soundtracks, sound effects for video games, background music for television shows, but the career best known in the field of audio engineering is music production. This is a title you could give to Pharrell Williams, Kanye West, Ryan Lewis and Jay-Z. They are creating beats, recording tracks and mixing songs.
"The recording gear is all new and high quality. Each Mac runs Pro Tools 11, the program used in studios in Nashville, L.A. and New York City."

-- Dave Lisowski, audio engineering student
"If this seems overwhelming for one person to learn, fear not! INART 258A is made up of only five students, and we meet in a studio for hands-on lessons. The studio has computers, keyboards, and all the microphones and mic cables you need to record. The possibilities for music production are endless because of all the resources.
"John Pachence teaches the course and wanted students working on industry standard equipment so the recording gear is all new and high quality. Each Mac runs Pro Tools 11, the program used in studios in Nashville, L.A. and New York City. The goal is to learn how to use Pro Tools efficiently and to develop a critical ear for music. We've been developing our critical listening and ability to correct the imperfections in our recordings through Pro Tools. We work on individual projects in addition to class projects where we bring in a student who has a song to record, and we make them sound great.
"While INART 258A alone won't make my dream job a reality, it's an awesome place to start. I'm going to take the 400-level course that continues the lessons and that will further my abilities and knowledge even more making my dream a little more attainable. For anybody with a love of music and sound, this is the course to take."
Pachence, the INART 258A instructor, has written songs for Rascal Flatts and The Band Perry. He also owns a music production house with clientele such as BMW and The History Channel, and serves as keyboardist /guitarist for The Beach Boys' touring band.
To learn more about the music program and integrative arts major at Abington, go to http://www.abington.psu.edu/academics/majors-programs/majors-abington/i….
Keep up on the lives of Abington students at the Lions Tales blog: http://pennstateabington.wordpress.com/.