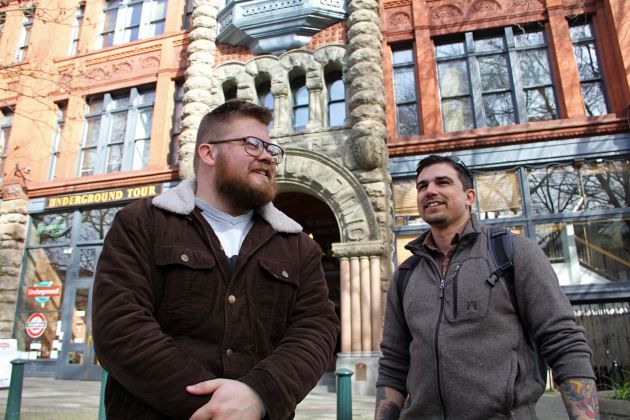 Two Penn State Abington students and their faculty adviser attended the Association of Writers and Writing Programs annual conference in Seattle last week.
Students Thomas Van Osten IV and Hudson Saffell were accompanied by Jimmy J. Pack Jr., lecturer in English at Abington. Van Osten is the editor-in chief and Saffell is the creative nonfiction editor of The Abington Review, the college's literary and visual arts magazine.
Van Osten felt the impact as the plane drew closer to its destination. "Drawing closer to Washington state, I looked down on the Cascadia Mountains. They seemed so small from up above, yet they were so gorgeous to me -- snowcapped works of art jutting up from the Earth compared to the wooded, glorified bunny slopes of the Poconos. As the plane descended, the imposing face of Mount Rainier came into view unlike anything I'd ever seen before. Further down were the rooftops of houses, streets and highways, ball fields and parks -- a whole society of people I had never seen before living on the opposite end of the continent. My arrival on the West Coast had changed my thinking in a fundamental way, and one that I don't even yet fully understand."
Pack is the faculty adviser to the student-run publication which includes fiction, creative nonfiction, poetry and art.
The AWP conference is the largest literary conference in North America. Seattle was chosen for the 2014 conference to celebrate the authors, teachers, students, writing programs, literary centers and publishers of the region. To learn more about the experiences of the Abington trio in Seattle, follow them at http://abingtonreview.com/