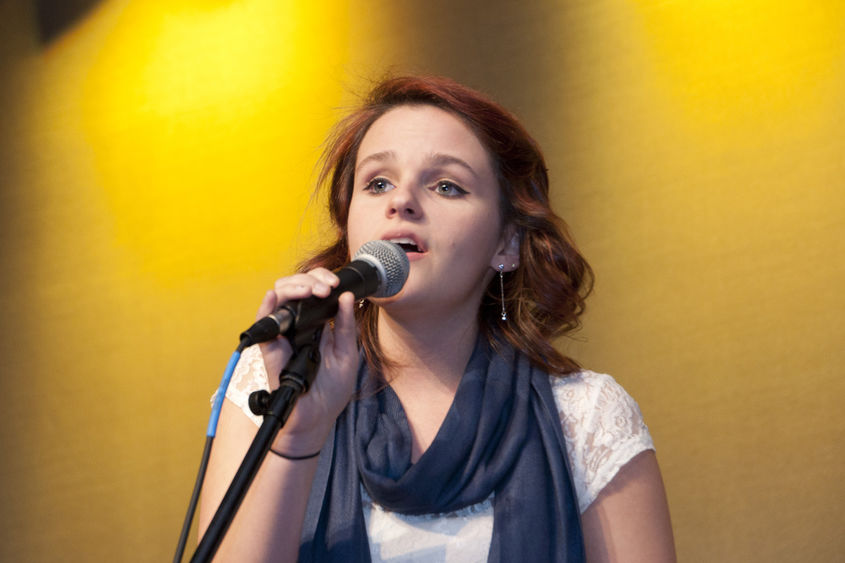 Take the hit film "Pitch Perfect." Subtract the mean girls, the inappropriate moments, and the male rivals, and what remains? The AbingTones, the Penn State Abington coed singers who were selected to perform in an international a capella competition this weekend at University Park.
Abington senior Rachel Sweeney, an original member of the group, said they are excited and nervous about the first round of the event, which they were invited to after their audition tape was accepted.
"We have a 12-minute vocal block, and we have to learn choreography, which is new to many of us," she said. "It is literally 'Pitch Perfect.' "
Ten groups, including the AbingTones, are rehearsing for the mid-Atlantic quarterfinals of the International Championship of Collegiate a Cappella. Three are composed of Penn State students, but the AbingTones is the only one from outside of University Park.
Rachel said they will sing against two former AbingTones.
"It's amazing that they are in the competition, too," she said. "They are in The Coda of Conduct, which is one of the University Park groups," she said.
Unlike the Barden Bellas in "Pitch Perfect," which struggled to find a new approach to the genre, the AbingTones are contemporary but they execute traditional elements with the best. The musical mix takes the audience on an emotional roller-coaster ride, with teary eyes one moment, clapping and cheering the next. Their winter concert at Abington last week included songs by the Beatles, Lorde, Fergie and Labrinth.
Since 2010, the students have thrived under the direction of Stephanie O'Dea Yoder, who teaches music and integrative arts and founded several student choirs at Abington. Yoder also is heavily involved in Abington's annual spring theater production, which this year pays tribute to women composers and authors. The 2013 show, "To Kill A Mockingbird," included a heavy dose of spirituals and a cast sprinkled with AbingTones.
Yoder's choirs are an active presence in the community, performing on campus and in the greater Philadelphia area. They have sung the National Anthem for the Philadelphia Phillies, the Philadelphia 76ers, and performed a lunch concert at Philadelphia's Reading Terminal Market. The students also have sung to raise money for THON.
Admission is free for this weekend's competition, which begins at 8 p.m. in Schwab Auditorium on the University Park campus of Penn State. For tickets and more information, go to http://varsityvocals.com/events/icca-mid-atlantic/
For more information on music and performing options at Abington, go to http://www.abington.psu.edu/academics/majors-programs/other-areas-study…