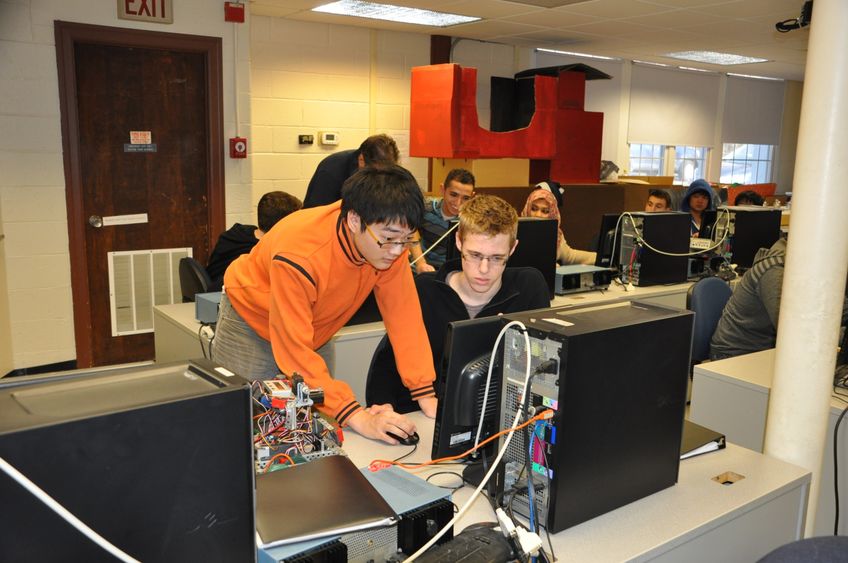 About a dozen Penn State Abington students and three faculty members will embark on a multidisciplinary venture this fall, thanks to an award the trio received to support innovative teaching methods.
The group will pilot a Maker Faire, a worldwide phenomenon that showcases new forms and new technologies across the spectrum of science, engineering, art, performance and craft. Abington student teams will work collaboratively under the guidance of the faculty members who represent separate but complimentary disciplines: Robert Avanzato (engineering), William Cromar (art) and Joseph Oakes (information sciences and technology or IST).
The teams will be comprised of about four students from each of the three disciplines of engineering, IST and art. They will engage in creative, hands-on projects and exhibits in the areas of kinetic art, microprocessors, sensors and physical computing. These cross-disciplinary collaborative designs will create electronic and micro-controller based projects that will emphasize interaction with the user, with the environment, and with Abington College and the local community.
The experience will begin in September with a trip by the student teams and faculty to the New York City Maker Faire, which was attended by 55,000 people last year. The visit will provide background, motivation and inspiration to move forward with the collaborative projects and create a foundation for working relationships among the students.
The Paul Hutta Award for Innovation in Teaching supports the Abington Maker Faire. The award, which was announced by Chancellor Karen Wiley Sandler, supports faculty development of innovative teaching methods, approaches or pilot projects designed to solve a challenge related to their disciplinary field. The late Hutta was a faculty member in engineering and physics, and the first division head for science at Abington College.
"The Paul Hutta Award for Innovation in Teaching is special to those of us who knew and worked with Paul Hutta," Sandler said.
Abington has a reputation for interdisciplinary projects including a collaboration between art and IST students. To learn more, go to news.psu.edu/story/151138/2012/03/05/penn-state-abington-artists-blog-they-map-italy.