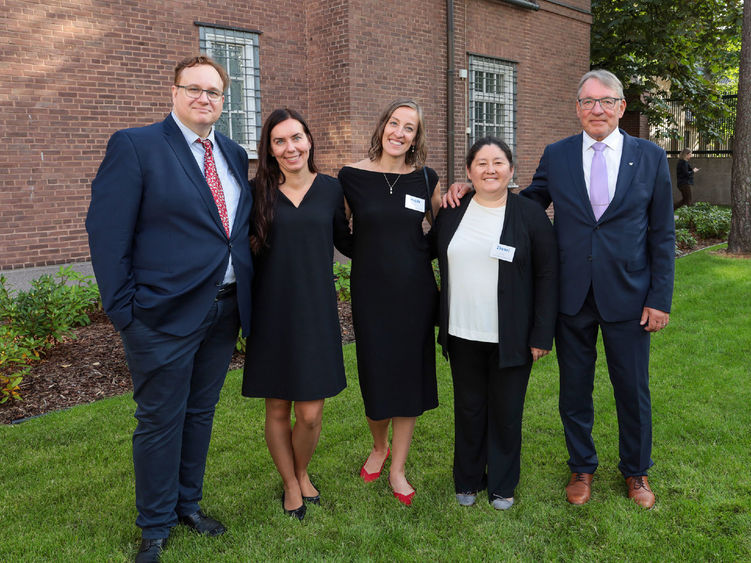 ABINGTON, Pa. — The Fulbright U.S. Scholar Program awarded Zhanel DeVides, assistant professor of accounting at Penn State Abington, a highly competitive Fulbright-University of Vaasa Scholar Award to conduct research on an international scale this fall. Her project at the Finnish university explores how the gender of corporate managers influences market expectations for future earnings. 
"I am uniquely qualified to pursue this area due to my previous research in earnings strings, disclosure practices, and financial intermediaries in the U.S. capital markets. It dovetails with the University of Vaasa's faculty expertise on Finnish institutional and cultural practices on gender diversity, financial reporting, and earning management," DeVides said. 
DeVides is collecting data on executives who provide information to investors and analysts and examining the differences in terms of how the market reacts to messages from female versus male executives. Managers who consecutively report earnings that beat expectations generate earnings strings, which are associated with higher firm valuations by investors and executive compensation.  
No prior study, according to DeVides, has examined whether gender plays a role in achieving earnings strings through its effect on the likelihood of consistently reporting earnings above analysts' forecasts via voluntary managerial guidance.  
The results of this study will shed light on behavioral differences in managing market expectations between female and male executives and highlight challenges that even the highest-ranking female executives might experience in garnering attention and influence for their communications.  
"I hope that this project will foster an exchange of ideas and collaborative research with faculty at the University of Vaasa, which ultimately will help promote gender equality and women's empowerment in the corporate sector around the world," DeVides said. 
DeVides said Finland is an ideal location for her work since the country is a leader in gender equity. According to the 2022 World Economic Forum, Finland is ranked second out of 146 countries in terms of gender parity. Finland has one of the highest percentages of female directors in the world despite not having mandatory quotas for women's representation on corporate boards. 
She said she hopes her work will lead to future collaborations in areas such as sustainability and social capital, which are important to her Finnish colleagues, Penn State, and the American research community at large.
At Abington, Nicole Stokes, the division head for Social Sciences, Business, and Education and professor of sociology, is a former Fulbright scholar who supported DeVides' application for the award.  
"This is an exciting time for Zhanel to do this kind of research at a top university in Finland. Connecting research and sharing information will sustain the connection between Penn State Abington and the University of Vaasa," Stokes said.  
An accomplished researcher, DeVides said she still values the opportunities teaching and Abington's undergraduate research program, known as ACURA, bring to interact with students. 
"I love teaching because I pass on my knowledge to other generations, and it promotes the profession. I tell my students to make sure what you do excites you and is fundamentally interesting to you," she said. 
DeVides mentored three Abington students last spring for a research project that explored factors influencing the choice of major among business students. They examined demographics such as gender, race, and first-generation college student status.
"They [the students] concluded that race and first-generation status didn't deter students from choosing more challenging business majors, but females are still underrepresented in accounting and finance. My students took a lot of initiative in designing the survey and analyzing responses," she said. 
DeVides, who started teaching at Abington in 2019, said she remains impressed by her faculty colleagues. 
"Our business faculty is so diverse and accomplished. Our core faculty is extremely active in producing interesting research. We have so much we can be proud of especially since we are a smaller campus," she said.  
DeVides earned a doctorate in accounting from Purdue University, an MBA from Southern Methodist University, and a bachelor's degree in management and economics from Kazakh State Academy of Management. She has extensive domestic and international teaching experience, and her research appears in prestigious scholarly journals. 
About Penn State Abington 
Penn State Abington provides an affordable, accessible and high-impact education to its diverse student body. It is committed to student success through innovative approaches to 21st-century public higher education within a world-class research university. With more than 3,100 students, Penn State Abington is a residential campus that offers bachelor's degrees in 25 majors, undergraduate research, the Schreyer Honors College, NCAA Division III athletics and more.