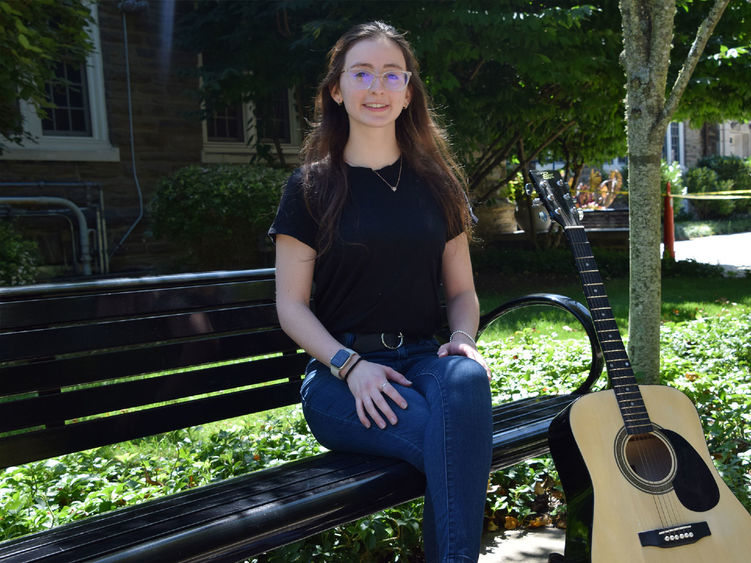 ABINGTON, Pa. — When Vanessa Sexton conducted a nationwide search for a college major that encompassed music and entrepreneurship, only one matched her criteria: the Integrative Arts program at Penn State Abington. 
Fast forward four years, and, after earning her degree in May, she is in the early stages of developing an app to connect musicians and creators with the producers, promoters and music supervisors who can introduce them to audiences. 
"I have spent most of the summer building up funding to protect my intellectual property. I found some of the most affordable and efficient technologies, and I've been trying to find the correct platform that meets my needs," she said, crediting her time at Abington with her progress. 
Sexton worked with John Pachence, associate teaching professor of integrative arts and an accomplished figure in the industry, to custom design a path that would support her career goals. Her coursework included marketing, music publishing, economics, ethnomusicology, songwriting, sound production, guitar, new venture creation, smartphone application design, and music entrepreneurship.  
"I even took a computer programming course, and I tried to choose electives that would help me be the best businesswoman I can be," Sexton, who is enrolled in the MBA program at Penn State Great Valley, said. 
The coursework and her time working with Pachence on stage and sound setups for his concerts and campus music events gave her hands-on experience with artists. But her classmates inspired the app. 
"When I came to Abington, I found people who were excited about music. My classmates were mostly aspiring musicians struggling to build a fanbase. I realized that producers and music supervisors have a hard time finding fresh artists because social media is saturated. I want this app to bridge the gap and allow them to make connections," Sexton said.  
The content on the app was inspired by conversations with music industry professionals with whom she networked. 
"Developing a fanbase comes from collaboration so a big aspect of the app is connecting people. Artists will be able to create profiles along with producers and promoters. These features differentiate me from competitors and help me protect new artists, so they aren't taken advantage of," she said.
Vanessa Sexton ... embodies an integrative arts major — creative and flexible with an entrepreneurial mindset. We devised a diverse and extremely marketable curriculum for her that is only possible through the Penn State Abington integrative arts major.

—John Pachence , associate teaching professor of integrative arts at Penn State Abington
Outside of the traditional classroom space, Sexton worked with the Abington LaunchBox, the campus entrepreneurship incubator, and she was awarded a scholarship to attend Penn State Startup Week Powered by PNC at the University Park campus through the Abington LaunchBox. 
"I made a lot of connections at Startup Week with successful and unsuccessful business owners — you need to learn from both sides of the equation — and I met with staff from the Penn State Small Business Development Center, at University Park," Sexton said.  
Pachence and Peter Hornberger, director of the Abington LaunchBox who also teaches management and entrepreneurship, became her mentors. 
"John has connections and incredible resources, and he isn't teaching from textbooks — he is showing you how to navigate the music business as it currently exists. John makes it clear that he cares about your success, but he will also reach out just to make sure you are OK," said Sexton, who comes from a family of entrepreneurs.  
"Peter and John made sure that I had what I needed to succeed. Peter really cares about the students and wants to give us every advantage," she said. 
Pachence said he was impressed by Sexton from the beginning. 
"Vanessa is a brilliant student who embodies an integrative arts major — creative and flexible with an entrepreneurial mindset. We devised a diverse and extremely marketable curriculum for her that is only possible through Penn State Abington's integrative arts major," he said. 
Sexton found additional support for her goals when she was inducted into the National Society of Leadership and Success chapter on campus.  
"There were great opportunities to listen to advice from business leaders from around the globe, as well as opportunities for feedback and to connect with other student leaders. It's a great resource for students looking to entrepreneurially revolutionize their fields," she said. 
About Penn State Abington 
Penn State Abington provides an affordable, accessible and high-impact education to its diverse student body. It is committed to student success through innovative approaches to 21st-century public higher education within a world-class research university. With more than 3,100 students, Penn State Abington is a residential campus that offers bachelor's degrees in 25 majors, undergraduate research, the Schreyer Honors College, NCAA Division III athletics and more.