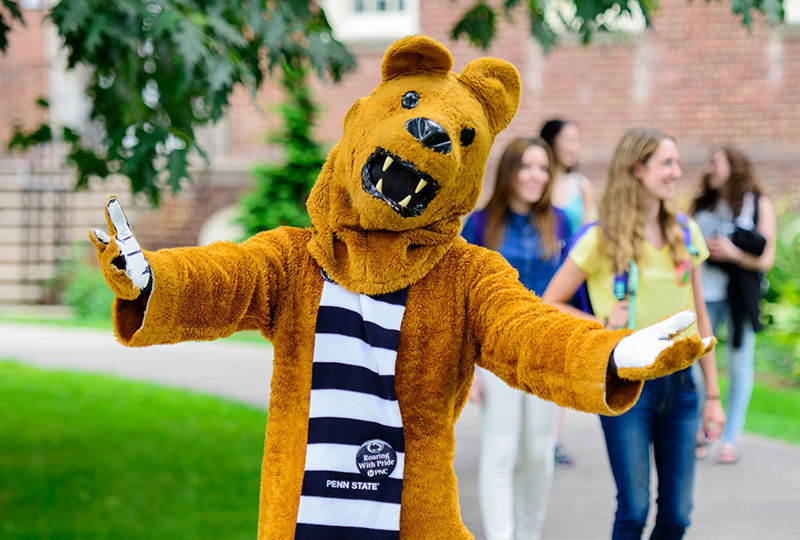 As part of our regular "We Are!" feature, we recognize nine Penn Staters who have gone above and beyond what's asked of them in their work at the University. 
This week, on behalf of the entire Penn State community, we'd like to say thank you to: 
Kathy Deutsch, program coordinator for youth education outreach at Penn State Behrend, whose nominator wrote: "Kathy interfaces with every school and student group that visits campus. She ensures that they have the best Penn State Behrend experience they could possibly have. She welcomes every group, acts as their guide and makes sure they all leave with a positive impression of Behrend." 
Tamra Fatemi-Badi, event coordinator at WPSU and co-chair of the Office of Outreach and Online Education DEIB Council, whose nominator wrote: "Tamra brings diversity, equity, inclusion and belonging (DEIB) best practices and behaviors into her work at WPSU. Last year, she presented at the national Society for HR Management (SHRM) inclusion conference and organized a new station event, the Multicultural Children's Festival, which was attended by over 800 community members and received a National Educational Telecommunications Association (NETA) award." 
Miranda Finocchio, administrative support coordinator in the Enrollment Management Office, whose nominator wrote: "Miranda takes very good care of us in the office and always has a smile on her face. We couldn't do this work without her!" 
Rachel LaMance, assistant teaching professor of applied linguistics and TESOL at Penn State Abington, whose nominator wrote: "Professor LaMance is an incredible teacher who strives to ensure all her students succeed by going the extra mile to provide ample opportunities in discussions, high-quality class modules and lessons and free access to resources. She turned a course I dreaded into my favorite of the semester." 
Jeannette Macaluso, human resources consultant (HRC), who received multiple nominations. Her first nominator wrote: "Jeannette has been a phenomenal HRC to the College of Information Sciences and Technology and has recently provided support to the College of Earth and Mineral Science's Institutes. This meant learning new policies and procedures, and getting to know a whole new leadership team and set of employees. She has done all with a smile and 'will do' attitude that has already won them over." Her second nominator wrote: "Jeannette is a fantastic HRC who is always willing to go above and beyond to provide support, guidance and leadership. She is incredibly knowledgeable, positive and an excellent communicator. She is inspiring and motivates others to be better every day. Thank you, Jeannette, for all you do!" 
Lindsay Miller, director of Penn State Conferences and Institutes, whose nominator wrote: "Lindsay brings passion, support and a positive energy to the office every day. She inspires us to work hard, even in the toughest of situations. She truly cares about each and every one of us and is always rooting for our success. We would not be the strong unit we are without her leadership!" 
Brian Sedgwick, grounds and facilities coordinator at Shaver's Creek Environmental Center, whose nominator wrote: "Brian is a treasure. He has such an amazing vision for Shaver's Creek and can so kindly and expertly guide volunteer groups in helping make these improvements a reality. We recently worked on a service project at Shaver's Creek and he made the experience so rewarding for all of us. Thank you!" 
Linda Struble, administrative coordinator for the Center for the Performing Arts, whose nominator wrote: "Look up Linda in the Penn State directory you'll see 'superhero' by her name. She keeps things running smoothly at the Center for the Performing Arts, but even more important than her attention to the daily tasks that keep us afloat is the care and support she shows to our student interns." 
Kaitlin Wolfert, coordinator of the Center for Student Achievement at Penn State Abington, whose nominator wrote: "Kaitlin has taken the Center for Student Achievement to a new level of professional development for her student and professional tutor staff. She consistently steps up when called upon, recently co-chairing the First-Gen Summit and assisting our short-staffed Student Affairs Office with new student orientation this summer." 
Thank you Kathy, Tamra, Miranda, Rachel, Jeannette, Lindsay, Brian, Linda and Kaitlin — and to everyone who helps make Penn State such an incredible community! 
Do you know someone who deserves a shout out? If you do, consider nominating that person by filling out a short online form.