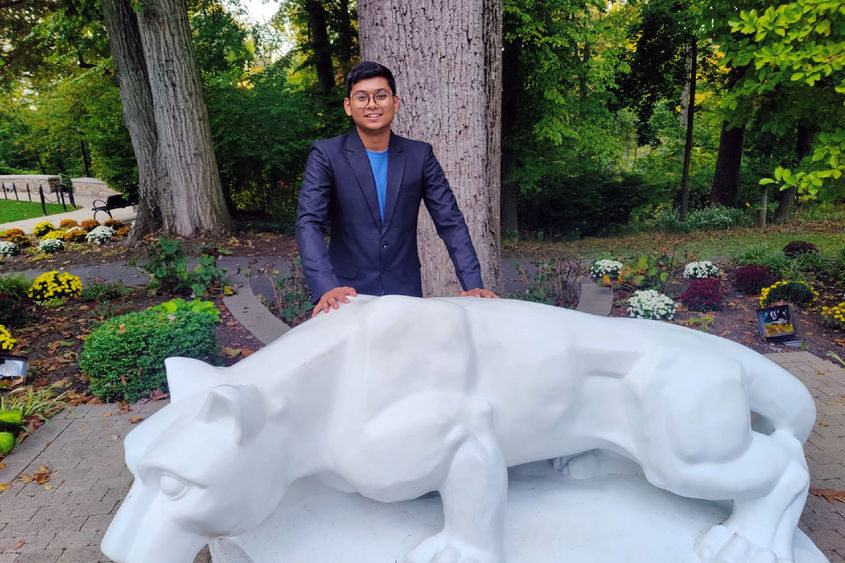 ABINGTON, Pa. — Smit Patel, a junior majoring in business administration at Penn State Abington, has been awarded the 2023 Ardeth and Norman Frisbey International Student Award for undergraduates.
The award recognizes undergraduate students who have contributed significantly to furthering international understanding. The student's contributions could consist of academic, athletic or extracurricular campus activity and/or community involvement in school or civic group programs or service projects.
Nominators said Patel, who began his career remotely during the COVID-19 pandemic, has been a tireless advocate for students since arriving on campus.
"Patel's empathy, ability to connect, and drive to inspire students make him a great example of leadership for many students," a nominator said. "He is very reliable, hardworking, and passionate about global learning and sharing his culture."
Patel, an international student from India, is Head Student Leader for the Peer Action Global Learning Network for the Office of Global Programs at Abington. In that role, he's responsible for being an advocate for international students. To accomplish that, Patel:
Manages a summer orientation event for more than 200 international students transitioning to life on campus. To assist with the event, Patel trains 10 student leaders to promote diversity awareness, teamwork and interpersonal skills.
Markets campus events through social media, flyers, class presentations and bulletin boards. Patel's efforts doubled student participation.
Mentors international students through communication continued engagement and the knowledge of campus resources.
Patel has also worked as a student coordinator at Global Engagement and Leadership Experience where he organized a three-day workshop for more than 100 transnational students from across 24 Penn State campuses, and coordinated team-building activities designed to promote global citizenship and international diversity.
"Smit has been one of the most outstanding peer mentors I've ever worked with," a nominator said. "Through his leadership and engagement, he has contributed to creating a welcoming environment, especially for first-year international students at Penn State Abington, thus upholding the reputation of Penn State Abington as a diverse and inclusive community."