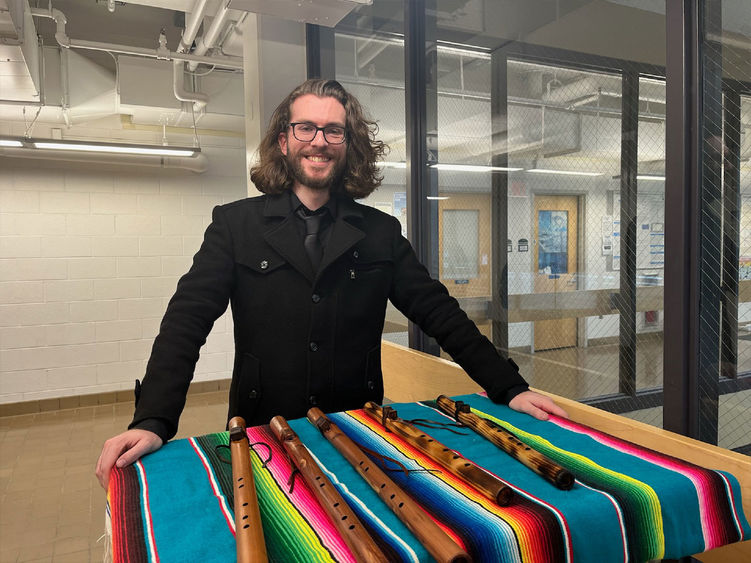 ABINGTON, Pa. — Jack Darnell, a Penn State Abington integrative arts major, began his musical journey at the age of 11, which originated from his love of movies. 
"As I kid, I remember watching 'Chronicles of Narnia: The Lion, The Witch, and The Wardrobe.' The character Mr. Tumnus was playing an unusual flute. I had never seen it before, it had a haunting, mystical, and beautiful melody. I fell in love with it immediately. It wasn't until years later I discovered that the flute was an Armenian instrument called the duduk. Its rich melody has enchanted me to this day," he said. 
Darnell plays several other instruments including the guitar, bass, and drums. However, his love for world music has been his true passion. When he was 19, he discovered the Native American flute, and for more than 10 years, he has played and collected flutes from various cultures. He soon realized that simply playing flutes wasn't enough. By the time he was 25, Darnell began customizing his own style of instruments.        
"This hasn't been an easy journey because it's not a common craft. There is no formal training for this. Everything I've learned, I've learned from reading manuals, watching YouTube, and learning from other woodworkers. My dad, for example, isn't a flute maker nor a musician, but he loves to work with wood and had many of the tools on hand to get me started. I showed him the blueprints, and he showed me the basics," he said.     
Darnell continues to experiment by using wood from several different types of trees for his flutes including poplar, cherry, mahogany, and cedar.
"Every material is unique, and each flute has its own voice.  When I walk into nature and see trees, I don't only see trees, I see and hear singing," he said.   
The senior has been adept at developing his craft and brings an ethereal vibe to campus arts events through his spontaneous, low-key performances on the custom flutes. 
"I occasionally like to play out near the pond on the Abington campus. People will come up to me and tell me my music is healing. They'll sit down, and we'll often have deep philosophical conversations," he said. 
Due to Darnell's responsibilities with school and work, it can be hard to find hours to spend in the woodshop. 
"I've made a lot of progress in my journey. However, it has been difficult to find time in shop as well as not having a mentor to assist me," he said.    
I can't imagine doing anything but music. It's what gets me up in the morning. It gives me a voice and gives other people a voice, too.

—Jack Darnell , Senior
Darnell has always had an affinity for music and considers it to be his first language. When he was young, he was diagnosed with a processing disorder that hampered his ability to process language. He knew what he wanted to say but had difficulty expressing himself through words.     
"It was difficult as a child not being able to fully express myself. I was always frustrated, never knowing why it was hard for people to understand me. It wasn't until I found music that people began to respond," he said.
Over the years, Darnell has performed in assorted places including retirement communities, charity events and yoga studios. His current job involves senior care, where he has played at mealtimes and occasionally during hospice. He is sometimes asked to perform at memorial services.
The more he has played, the more he has realized this pastime was so much more than just playing music. He wanted to turn his passion into a profession. 
"I originally wanted to study music therapy when I was at Bucks County Community College. It wasn't until I came to Penn State Abington that I began to focus more on composing. I later decided to learn more about entrepreneurship and how get my business off the ground. That's where I met Professor Pachence, who introduced me to several opportunities," he said.       
John Pachence, the program coordinator for performing arts at Abington, has served as a mentor to Darnell. 
"John is such a fascinating guy. He always has an amazing story to tell. Not only is he a skilled professor, producer, and musician, but he is also committed to helping his students succeed. I am proud to have him in my life," Darnell said.          
Pachence, who has deep and broad experience and connections in the music industry, praised Darnell's talents and work ethic. 
"Jack is a great songwriter and recording engineer. He is a true music entrepreneur," he said. 
Despite his busy schedule, Darnell has found time to release a CD, "Soaring Through the Heavens." He is in the process of developing material for a second release along with creating his handmade flutes.
As he approaches graduation from Abington, Darnell is considering a future in composing music for films. He hopes to also help spread more awareness relating to the Indigenous community by performing, educating and resurrecting this style of music. 
"I can't imagine doing anything but music. It's what gets me up in the morning. It gives me a voice, and hopefully it can provide a voice for others as well. Even though I'm not of Native blood, nor am I affiliated with a tribe, I have a deep admiration for the culture. I hope to represent the community the best way I can," he said.   
About Penn State Abington 
Penn State Abington provides an affordable, accessible and high-impact education resulting in the success of a diverse student body. It is committed to student success through innovative approaches to 21st-century public higher education within a world-class research university. With more than 3,100 students, Penn State Abington is a residential campus that offers baccalaureate degrees in 25 majors, undergraduate research, the Schreyer Honors College, NCAA Division III athletics and more.