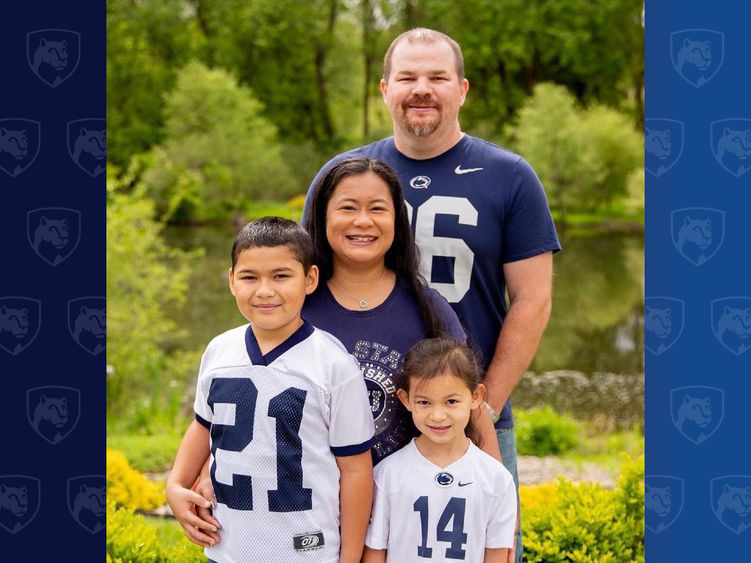 ABINGTON, Pa. — Leilani (Tesoro) Fox and Kevin Fox first crossed paths in 2002 as Penn State Abington students when they volunteered as Lion Ambassadors, leading tours for visitors. However, it wasn't quite love at first sight. 
"We started randomly talking at a fall open house. He had a beard, and I'm thinking, who is this old guy?" Leilani, who graduated in 2004 with a corporate communication degree, said with a laugh.
Kevin had similar questions about the "height-challenged" Leilani. 
"She looked like she was 12 years old. I thought maybe she was a child prodigy attending college," he said. 
But their relationship flourished, and they soon discovered that they had much in common. Both were the first in their families to attend college, and they managed coursework while going all in on student life at Abington. The pair bonded over their service as Lion Ambassadors and orientation leaders, and Kevin supported Leilani's dedication to cheerleading and her work in the admissions office.  
They worked together at a high-end candy store at one point to pay the bills while Kevin also toiled away in construction and Leilani was employed at a pizza shop. 
Some of their fondest shared experiences are from the four years at Abington.  
"For both of us, I think being orientation leaders during the summer are some of our most vivid memories. Everyone bonded, and we all hung out together," Kevin, who graduated with a business degree in 2006, said. 
"When I was a cheerleader, the basketball team was undefeated, and we won the championship. I keep in touch with some of the players including Isaiah Thomas, who is now a Philadelphia City Councilman," Leilani said. 
A few year later while in Boston with friends from Abington, Kevin proposed to Leilani with the entire group in tow. It was followed by an engagement photo shoot at the Nittany Lion shrine on campus.  
Their 2009 wedding was threaded with ties celebrating their Penn State connection: the bridesmaids' navy blue dresses coordinated with the groomsmen's ties and pocket squares, and Leilani's dress included a touch of blue, too.
"The linens were blue and white and so were the flowers on the cake, which had a glass Nittany Lion topper. The best part was that a bunch of our college friends came to the wedding," Leilani said. 
Today, the couple resides in Montgomery County, about 30 minutes from Abington where Leilani grew up, with their two young children.  
Kevin's work at Vanguard as a product manager on the growth enablement team has put him in touch with a number of co-workers who are Abington and Penn State alumni. Leilani is a marketing manager at TD Bank, and they are heavily involved coaching sports and volunteering at their children's schools. 
As busy as the Foxes are with their flourishing family and careers, they maintain ties to Abington and Penn State. Friendships with Lion Ambassador and orientation leader cohorts endure, and they hope to bring their children to the Blue and White game at University Park in April.  
Leilani serves as president of the campus Alumni Society Board, and she supports first-generation college students at Abington through the "I'm First" mentoring program. She also holds a seat on the University's Alumni Council. 
"When I'm on campus volunteering, I see people from when I was a student, and it brings back great memories. We love to keep those connections," Leilani said. 
About Penn State Abington  
Penn State Abington provides an affordable, accessible and high-impact education resulting in the success of a diverse student body. It is committed to student success through innovative approaches to 21st-century public higher education within a world-class research university. With more than 3,100 students, Penn State Abington is a residential campus that offers baccalaureate degrees in 25 majors, undergraduate research, the Schreyer Honors College, NCAA Division III athletics and more.