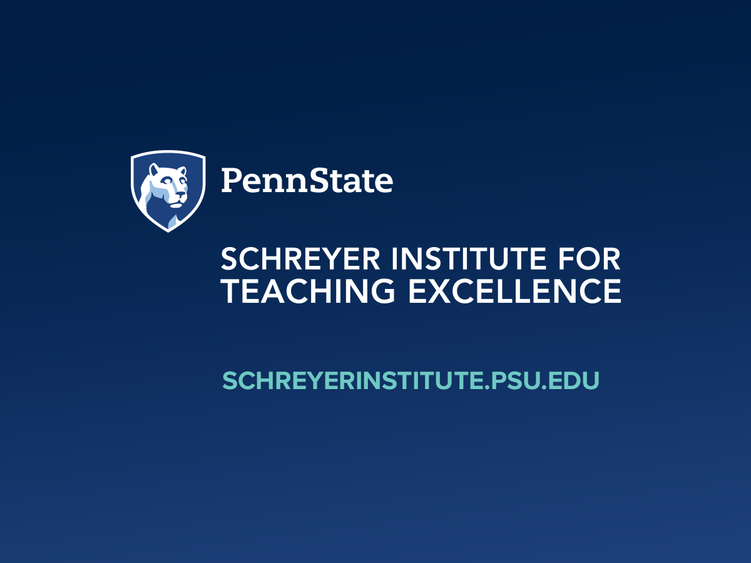 UNIVERSITY PARK, Pa. — The Schreyer Institute for Teaching Excellence (SITE) announced the inaugural recipients of its spring 2023 Advancing Equity and Inclusion grants.  
"These grants are one way that the Schreyer Institute is supporting the Penn State teaching and learning community to create more equitable and inclusive learning opportunities for students," said Angela Linse, associate dean and executive director of SITE. "We will offer these grants next year as we continue to take actions consistent with our equity, inclusion and accessibility strategic goal." 
The aim of the grant program is to enable change at a broad level and focus on a program, department, division, college or campus. Consistent with the Schreyer Institute's mission, projects much advance teaching and learning. All project teams must be led by a faculty member and include other full- or part-time instructors. The team may also include students and staff.  
The recipients of the 2023 spring grants are as follows:  
Alison Borkowska and Gina Pazzaglia, Department of Nutritional Sciences, College of Health and Human Development/World Campus 
"Bridging the Gap between Diversity, Equity, Inclusion, Accessibility & Belonging and Universal Design in Higher Education"  
This grant supports a guest speaker who will address diversity, equity, inclusion, accessibility and belonging (DEIAB) in the context of dietetics. In addition, a group of instructors will complete a self-study to promote their understanding of the cultural humility framework and develop a plan for integrating self-awareness, awareness of identity, and cultural humility into their teaching, learning, and professional goals. 
Grace Lee-Amuzie, Rachel LaMance and Henny Zacharias, Applied Linguistics, Penn Abington 
"Creating an Inclusive Liquid Syllabus as a Tool for Improving the Sense of Belonging for Multilingual Students" 
With this grant, members of Penn State Abington's teaching community on equity pedagogy will apply principles of equity pedagogy to syllabus design. To increase accessibility of inclusive syllabi, they will focus on developing liquid syllabi, which use web-based technology that is read easily on different devices. Members of the teaching community will participate in an all-day workshop combining a guest presentation on equitable approaches to syllabus design and exemplary syllabi with hands-on tutorials facilitated by instructional designers, who will provide support for using online tools to create liquid syllabi. 
Xiaoye You, Lauren Barnes and Shannon McClellan Brooks, Department of English, College of the Liberal Arts 
"Graduate Community in Conversation: Negotiating the Norms of Academic Writing" 
The Department of English will host a graduate community writing series for early career graduate students with backgrounds that are historically underrepresented in English. This series started at the beginning of the academic year. Funding from SITE will support the third workshop: "Graduate Student Teaching Practices." The goal of the workshop is to enable change that engages graduate students and recognizes them as teachers who can create undergraduate learning experiences that facilitate understandings of ethnic and linguistic diversity. 
Beth Edwards and Jamie McClintock Brenner, Department of Biobehavioral Health, College of Health and Human Development
"Biobehavioral Health Student Center: Students as Partners" 
The Biobehavioral Health (BBH) Student Center is a newly launched collaboration between faculty, students, staff and administrators, with the mission of promoting academic achievement, building community through inclusive practices, and fostering a sense of belonging among students. To cultivate inclusive teaching and learning practices that create belonging among BBH students, the center will pilot a cohort of Student Partners in DEIAB. The grant will allow the center to hire student partners who will undertake multiple functions that will inform and guide the center's near peer support, including researching BBH students' needs and experiences, co-designing support services and engagement activities, and proposing methods to enhance inclusive, equitable teaching practices across the program. 
The Schreyer Institute for Teaching Excellence is part of Penn State Undergraduate Education.