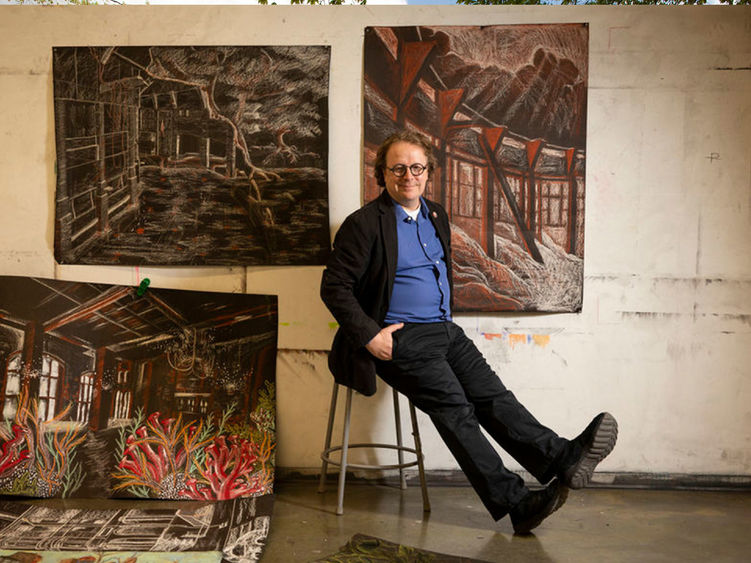 ABINGTON, Pa. — Penn State Abington is hosting "Know the Enemy," a solo exhibition by Philadelphia artist and educator Gerard Brown, through March 3 in the Woodland Building art gallery. 
Brown is an educator and artist who paints passages of writing that fascinate and confuse him, using codes, ciphers, and laborious techniques that allow for reflection. Occasionally, the messages of these writings compel him to use other techniques and to collaborate with other artists.  
"Gerard Brown's work uses a variety of coding methods to make language visible. His paintings and drawings are meditations on important texts and ideas and invite us to think deeply about contemporary issues through these texts and visual works," said H. John Thompson, associate teaching professor of art, and art gallery director.
"Know the Enemy" highlights Brown's work from the last 12 years. According to Brown, one theme is how reading and writing can mediate between diverse identities and states of mind. Brown said he has used his painting as an opportunity to ruminate on ideas that emerge from his reading by transcribing passages from artists and authors that inspire deeper contemplation. To slow the act of reading, he encodes these texts, which requires a letter-by-letter engagement with his sources.  
The resulting paintings celebrate literature's capacity to help readers overcome isolation or explore the way politicians have weaponized language to polarize the nation. In this exhibit, drawings and needlework imagine the act of learning to communicate with non-human readers. Taken as a whole, the exhibit offers a chance to reflect on our collective involvement in language.  
He has written criticism for the Philadelphia Weekly, Juxtapoz, and Ceramics Art and Perception and has organized exhibits for the Philadelphia Art Alliance, Moore College of Art & Design, and the Center for Art in Wood. He serves as an associate professor at Temple University's Tyler School of Art and Architecture. 
An opening reception is scheduled for Jan. 18 from 12:20 to 1:10 p.m. in the gallery. A workshop with the artist, "How to Hide Anything," will be held on Jan. 20. It will briefly explore ways that messages can be generated using codes and ciphers, with special attention to the connections between contemporary social media and historical examples, with participants generating a few themselves. RSVP to [email protected] as space is limited for the workshop. 
Visit the gallery website for exhibition hours.
About Penn State Abington 
Penn State Abington provides an affordable, accessible and high-impact education resulting in the success of a diverse student body. It is committed to student success through innovative approaches to 21st-century public higher education within a world-class research university. With more than 3,100 students, Penn State Abington is a residential campus that offers baccalaureate degrees in 25 majors, undergraduate research, the Schreyer Honors College, NCAA Division III athletics and more.