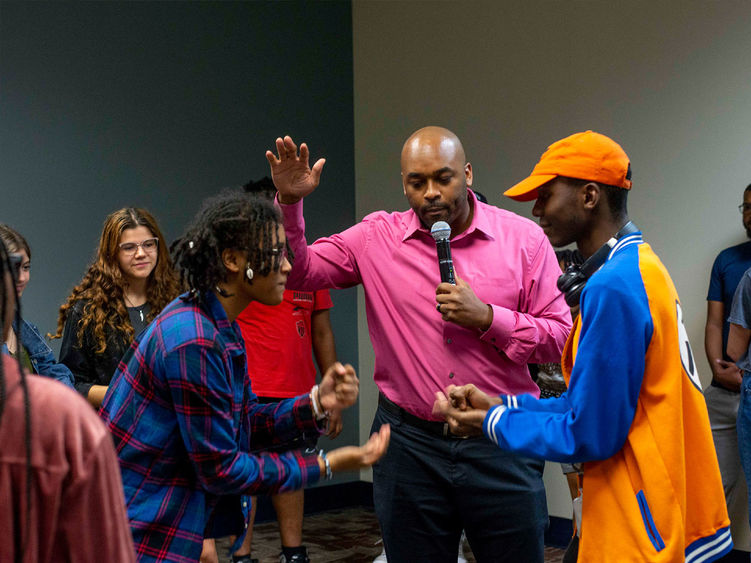 ABINGTON Pa. — A nationally known expert in diversity, equity and inclusion (DEI) questioned, inspired and challenged Penn State Abington students to raise their awareness of and their confidence in educating others on the subject. Justin Brown encouraged them to view DEI as vital to their careers and to incorporate it into their portfolio of life skills. 
"This is who employers are looking for, people who can create safe spaces for themselves and others by developing intentional relationships," he said. 
The author and educator presented his high-energy, action-oriented Diversity Awareness Program in the Lares Student Union Building on campus. He used creative ice breakers and question-based games to drive home his points while keeping the mood light for the 35 students who attended. 
"You need to go beyond what you see and make the most of your opportunities in college. Break barriers. Let's face it, you could have stayed home if you wanted to stick with the same people," Brown said. 
He called on the students to assess their own feelings about discussing DEI within and outside their circle of family, friends and community. 
"Are you uncomfortable talking about diversity? It's understandable because it could lead to conflict, and it calls for skills not many of us have mastered," he said. 
Avoidance comes from fear of misspeaking, sounding racist or unintentionally doing harm, he explained, but everyone has their own story. Your background isn't important. It's your lived experiences and how you identify with and process them, he said. 
"Don't argue. Ask questions. Seek clarity, offer alternative perspectives, speak your truth, find common ground, give yourself the time and space you need, and set boundaries," Brown said while reminding the audience that even seemingly small interactions such as pronouncing a person's name correctly makes a big impression. 
This is who employers are looking for, people who can create safe spaces for themselves and others by developing intentional relationships.

—Justin Brown , author, educator, and diversity, equity and inclusion expert
He reminded them to consider the basic questions driving the DEI conversation: 
Diversity: Who is in the room? What perspectives are we missing?  

Equity: Who is trying to get into the room? Does everyone have what they need to stay in the room?  

Inclusion: Have everyone's ideas been heard? Who are we impacting? 
In closing, Brown gave the students a mission: It's their job to become someone who builds the culture up, not tears it down. 
"Equity education is critical and follow up is everything. Make sure to do the work in non-crisis times to prevent it from becoming a crisis. Understand your lens, stay the course, and work the plan," he advised the students. 
Brown's professional experience includes K-12 diversity instruction and student affairs in a higher education setting. He is the director of diversity, equity and inclusion at Downingtown Area School District in Chester County. 
The event was funded by Student Engagement and Leadership; the Office of Diversity, Equity, and Inclusion; the Student Government Association; and the Conduct Standards Office. 
About Penn State Abington 
Penn State Abington provides an affordable, accessible and high-impact education resulting in the success of a diverse student body. It is committed to student success through innovative approaches to 21st-century public higher education within a world-class research university. With more than 3,000 students, Penn State Abington is a residential campus that offers baccalaureate degrees in 24 majors, undergraduate research, the Schreyer Honors College, NCAA Division III athletics and more.